Comprehensive, State-of-the-Art Cancer Care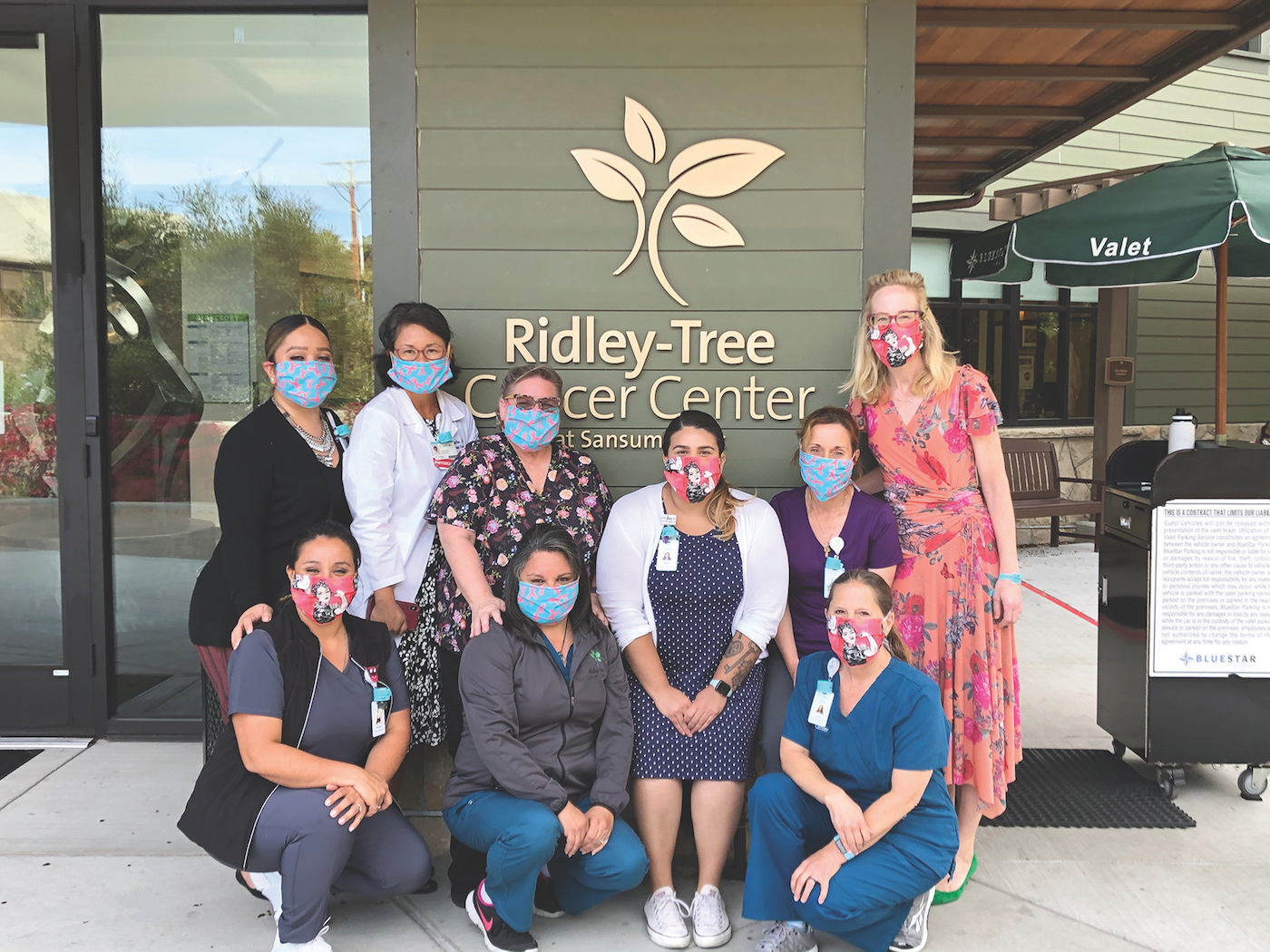 The Cancer Center of Santa Barbara was founded 73 years ago based on the simple concept that a city that is one of the most desirable places on Earth to live should also have state-of-the-art cancer care available locally. The name, locations, and internal structure has changed over the years, but the nonprofit's goal has never wavered, with its formal mission of "ensuring superior cancer care for all residents of Santa Barbara County regardless of means."
"We know that people have better outcomes when they're treated in their own communities," explained Stephanie Carlyle, Director of Philanthropy & Administration for the stand-alone Cancer Foundation of Santa Barbara, the financial backbone of the Cancer Center since its inception.
The Cancer Foundation of Santa Barbara and Ridley-Tree Cancer Center work together to provide a comprehensive diagnostic, treatment, prevention, and research program that allows cancer patients to receive the highest level of care without leaving Santa Barbara. The partnership also aims to keep the Central Coast on the vanguard of modern cancer care by investing in cutting-edge medical equipment, the recruitment of highly trained medical personnel, active participation in clinical research, the integration of oncology services, and the thoughtful introduction of promising new methods of treatment.
All of which contributes to the fact that despite the belief that specialists in Los Angeles might be able to offer better care, Santa Barbara's Ridley-Tree Cancer Center at Sansum Clinic – its name since 2017 when the new comprehensive center steps from Cottage Hospital was constructed to combine three locations into one – offers equal if not superior services, Carlyle said.
"I've quite often heard that when somebody goes down to UCLA to seek treatment that they're told there are world-class facilities right there in Santa Barbara," she said. "And when people head down to get a second opinion, sometimes they hear from that doctor that the person who taught them is actually practicing in Santa Barbara."
Staying in town also allows all aspects of treatment and services to be centralized in one location, including lots of services beyond physicians and medicine.
"The Foundation through our fundraising supports not only patients' physical health, but also the mental and psychosocial aspects of the disease that might enhance their recovery," Carlyle said. "That's primarily where our funding goes."
Among those ancillary services are integrated Patient Navigation, Genetic Counseling, and Oncology Nutrition programs to meet the multi-layered needs of patients; Oncology Social Work services to help patients with psychological, social, and financial stresses and featuring individual family counseling, case management, support groups, assistance with home care and long-term care, insurance, transportation, finances, and advocacy. Additionally, Wellness Programs and Classes offer a wide range of activities to provide a healing and supportive atmosphere for patients and caregivers, including yoga, painting, flower arranging, exercise programs, meditation, and even a music therapy program, while Community Outreach & Prevention programs act to reduce cancer risk among patients in our community.
"These are services that are generally not covered by insurance and not traditionally available in a community of our size," Carlyle explained, adding that the grants to cover those programs run about $3 million per year. "Most of those grants come as a result of the fundraising that we are able to do in the community."
Which is why, Carlyle said, gifts of any size are welcome, from estate planning and gifts of stock portfolios to one-time donations.
"The more that we raise, the more money we are able to grant to the Cancer Center to support these programs, and also eventually allow them to expand based on need in the community, and add new ones that enhance healing."
That need – which is already sizeable as the center served more than 12,000 individuals representing more than 67,000 visits to oncology departments in 2020 – might grow as a side effect of the pandemic, as with information about increasing risks due to the new COVID variants, people might be refraining from getting screenings and seeing their physicians. "There may be a lot of people who end up being diagnosed once they feel safe to come out again, so there will be a need for additional staffing and expansion of programs," Carlyle said. "Even beyond the pandemic, as things morph and change, as we move into the future and learn about better treatments or new programs, we want to be able to make them available as soon as possible. All that requires funding. So every gift matters."
If the pandemic protocols and social distancing guidelines allow, The Cancer Foundation of Santa Barbara is hoping to re-establish its signature community events, including the Barbara Ireland Walk & Run for Breast Cancer and the Cancer Center Walk/Run – which transitioned to virtual participation last year – as in-person gatherings once again.
"We tend to be a little bit more cautious because either participants or donors may very well be cancer patients or survivors, and we need to take their health and safety into consideration," Carlyle said. "Hopefully once the Omicron surge passes, we'll be able to meet in person again."
Cancer Foundation of Santa Barbara is located at 601 West Junipero Street. For more information, call (805) 898-2116 or visit https://cfsb.org.
Donate now!
cfsb.org
(805) 898-2187
Executive Director: Lori Willis
Begin to Build a Relationship
We know you care about where your money goes and how it is used. Connect with this organization's leadership in order to begin to build this important relationship. Your email will be sent directly to this organization's director of development and/or Executive Director.
Cancer care is often expensive and leaves many residents unable to afford potentially lifesaving treatments. Support of the AJM Fund means that world-class care offered by Ridley-Tree Cancer Center's medical team will continue to be available to everyone in our community who faces a cancer diagnosis, allowing them to focus on their recovery without the burden of the inevitable accompanying financial challenges.
In Art's Honor
In 2011, in order to advance its mission of providing advanced cancer care to anyone in the community regardless of financial ability, the Cancer Foundation established the AJM Endowment Fund for Patient Assistance, created in honor of Art Merovick for his many years of service to the Foundation. The AJM Fund provides financial assistance for medical treatment, procedures, and co-pay obligations for qualified patients. In keeping with the 72-year mission of the Foundation, it is a charitably supported endowment that ensures access to the excellent care of the Ridley-Tree Cancer Center for all patients, regardless of their financial means.
Board of Trustees
Denny Bacon
Kristen Blabey – Secretary
Andy Chou
C. Michael Cooney – Chair
Shane Cotter, MD, PhD
Larry Dam
Frank Foster
Vicki Hazard
Priscilla Higgins, PhD – Vice Chair
Patty MacFarlane – Treasurer
William Meeker
Val Montgomery
Richard Nagler
Carola Nicholson
Charles Petersen
Amalia Priego
Kimberly Schizas
George Tharakan
Thomas H. Weisenburger, MD
Katina Zaninovich