A Place to Call Home for Struggling Seniors
Long before entertainment news trailblazer Rona Barrett interviewed everyone from Raquel Welch to Tom Cruise, she was a young girl at her father's food store in Astoria, New York, standing on tiptoes to push buttons on the cash register. 
She saw how much the customers loved her father, his sense of humor and, most of all, his generosity. Barrett watched him support friends and family and write checks each Sunday to small charities.
"He was always handing out money. And we didn't have a lot of money!" Barrett says, "We were just an ordinary family. 'We don't need another dress, we don't need another pair of shoes and if someone needs another pair of shoes…' That was his thinking: If ever I had an extra nickel and didn't need it, give it to someone who does. And that always stayed with me."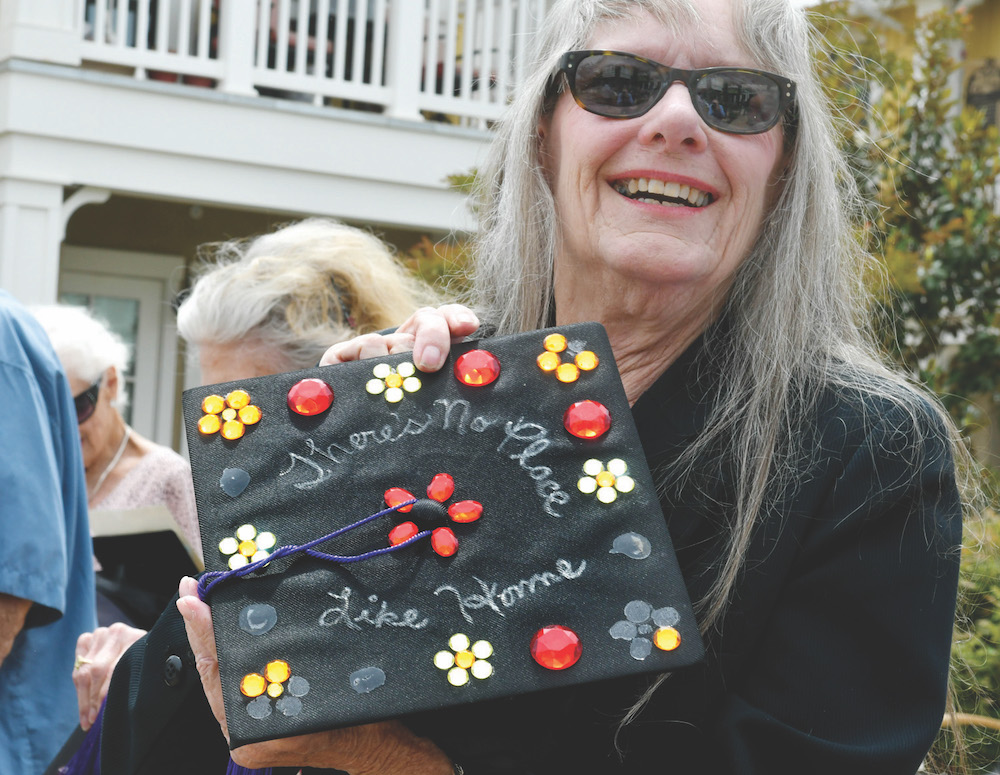 That generous spirit led her to found The Rona Barrett Foundation, providing housing and community for seniors in need. After leaving Hollywood and caring for her father in his final years, she realized that not all seniors have the means to live out their days in comfort.
Barrett parlayed her name recognition and started with a few donors and a patch of land in the Santa Ynez Valley. Fifteen years later, The Golden Inn & Village, a safe haven for low-income seniors, opened its doors, with 60 small apartments and other wellness services, and maybe most importantly, dignity.
"Putting a roof over their heads was not enough," says Barrett, who realized the scope of the problem when on their first move-in day, resident after resident showed up, not with furniture, but with paper bags in hand. "It hit the heart. I said, 'My god, if this is going to happen all over the country, what are we going to do?'"
Many were unhoused, living in RV's or sleeping from place to place. So the foundation bought beds and created a food program and community center.
Resident Carol LaRue recalls what it felt like to finally have security. "It was like winning one of the Golden Tickets in a Willy Wonka Chocolate Bar. With the turn of a key and the opening of a door… I was home."
In 2022, residents celebrated The Golden Inn & Village's 5-year anniversary. In February, the foundation broke ground on Harry's House, a facility with 60 units of congregate care named in honor of Barrett's late father, Harry Burstein. The foundation hopes to establish a $20 million endowment to ensure that their residents have the security of knowing they will always have food and a place to call home.
Donate now!
www.ronabarrettfoundation.org
(805) 688-8887
Executive Director: Tony Morris
Mission
The Rona Barrett Foundation is a non-profit organization providing affordable housing and supportive services for seniors-in-need. We do this by developing, expanding, and continuing operation of care homes such as the Golden Inn & Village in Santa Ynez, California. Residents benefit from a wide range of essential care services. With dignity, respect and love, the Rona Barrett Foundation presents residents with a broad variety of programs that meets their needs and enhances their lives.
Begin to Build a Relationship
We know you care about where your money goes and how it is used. Connect with this organization's leadership in order to begin to build this important relationship. Your email will be sent directly to this organization's director of development and/or Executive Director.
So many elderly women and men have touched my life over the years. Whether a grandparent or dear friend, their experiences and valuable contributions have always been of interest to me. Personal bonds are the inspiration for my wanting to become directly involved with the Rona Barrett Foundation and its work on behalf of seniors in their time of need. Like so many others, I've been impressed with the Foundation's efforts to develop and build the Golden Inn & Village. I eagerly anticipate the completion of Phase II, Harry's House.
Give the Foundation a Long Life
With life expectancy growing and an aging population without a safety net, The Rona Barrett Foundation is dedicated to giving seniors in need housing and dignity in their golden years. 
Founded by pioneering entertainment journalist Rona Barrett, the organization created The Golden Inn & Village, a safe haven for seniors with limited means to live a quality life.
The Foundation has broken ground on a second facility, Harry's House, and is seeking $20 million to create an endowment to give their residents security in the years ahead. You can help change the lives of the seniors who have given so much to their communities by giving them housing, community, mental health, and dignity.
Key Supporters
Annenberg Foundation
Ann Jackson Family Foundation
Hutton Parker Foundation
The Robert and Carol Jackson
Charitable Foundation
Santa Barbara Foundation
Santa Ynez Valley Foundation
The Towbes Foundation

BOARD OF TRUSTEES
Rona Barrett, Founder
& Chief Executive Officer
Cynthia Manigault,
Chairperson
Djamila Cabugos,
Vice-President & Treasurer
Steve Reden, Secretary
Jane Ayer
Roger Battistone
Lisa Clement, M.D.
Kelly Hunziker
Susan Weber
In Memoriam:
Karen Langley Stephen