Fr. Virgil Cordano Center: Meals, Laundry, and Comfort…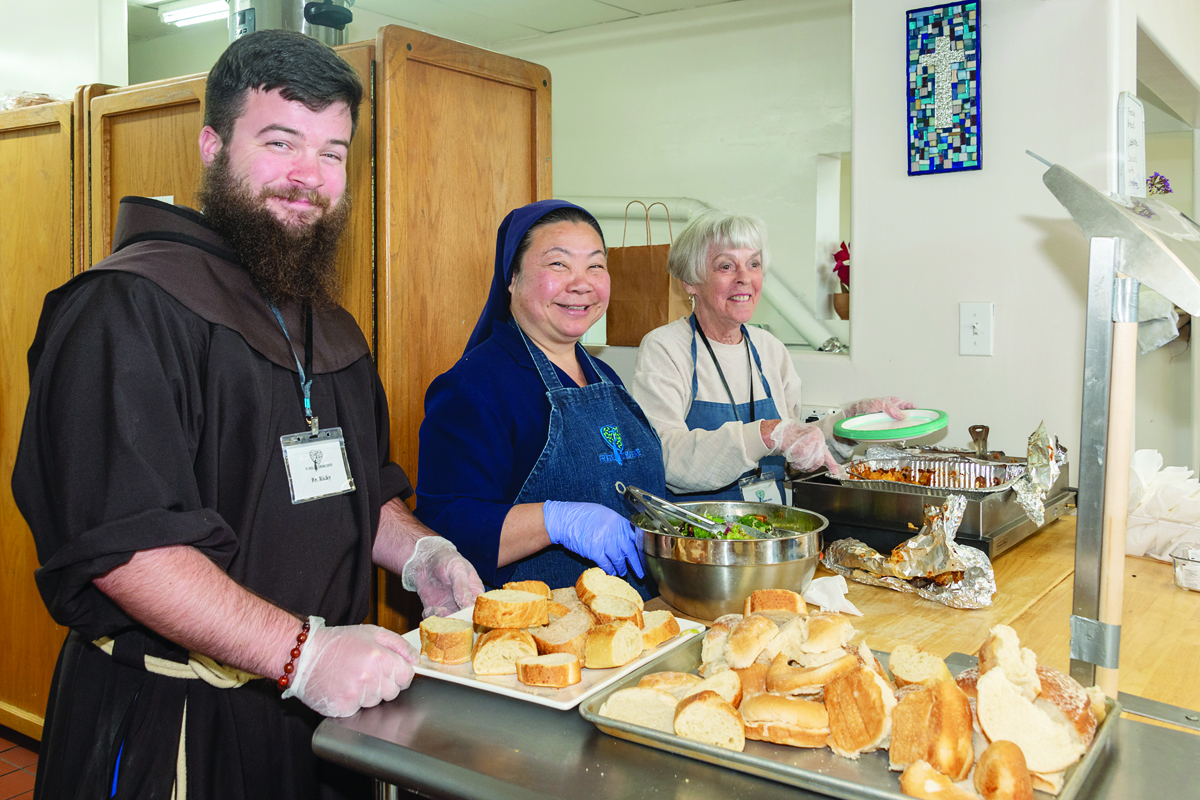 The repurposed Santa Barbara store fronts at 4020 Calle Real, Suite 2, are serving our city's homeless two meals a day – and a place to call home from 9 am to 3 pm. This is the Fr. Virgil Cordano Center (FVCC), conceived by the Daughters of Charity at St. Vincent's and the Franciscan Friars at Old Mission Santa Barbara. 
The center is the only drop-in homeless day center in the Santa Barbara area and offers a variety of essential services for members of Santa Barbara's homeless community, including nourishing meals; case management and support in accessing eligible social services and job/housing opportunities; access to utilities such as a kitchen, washing machines, computers, and the internet; and a safe place to rest, socialize, and experience a sense of community. Acknowledging that a person is not defined by their homeless status, the staff help the homeless guests with support resources.
The program operates with two full time staff members, Director Deborah McQuade and Assistant Director Ann Bentajado. McQuade and Bentajado join with over 40 volunteers, and Sisters and Friars, to take on all the various jobs at the center. Lazy Acres and Bristol Farms contribute food through Santa Barbara County Food Rescue, while Jordano's and Catholic Charities donate directly to the Fr. Virgil Cordano Center. Staff members go out and collect the food offered by these donors, and after thoroughly inspecting the donations for food safety, bring the foodstuffs back to create the meal plans. Meals are breakfast and lunch – sit down, take out, and snack packs.
Asked what the best part of her job is, McQuade said, "The very best part of each day is really the first thing in the morning, when our guests walk through the front door, saying "hi" to the staff and volunteers, grabbing a cup of hot coffee and enjoying the always comforting smell of scrambled eggs and buttered toast coming from the kitchen. Every day it feels like the coming together of a real community – and it is!"
Helping McQuade both oversee the operations at FVCC and serve the center's members is Sister Arthur Gordon, Daughter of Charity at St. Vincent's Santa Barbara, where she is the VP of Mission and Archives. Sister Gordon hopes for expanded services with a new location and building for the FVCC that includes temporary housing for what she calls "our unsheltered brothers and sisters."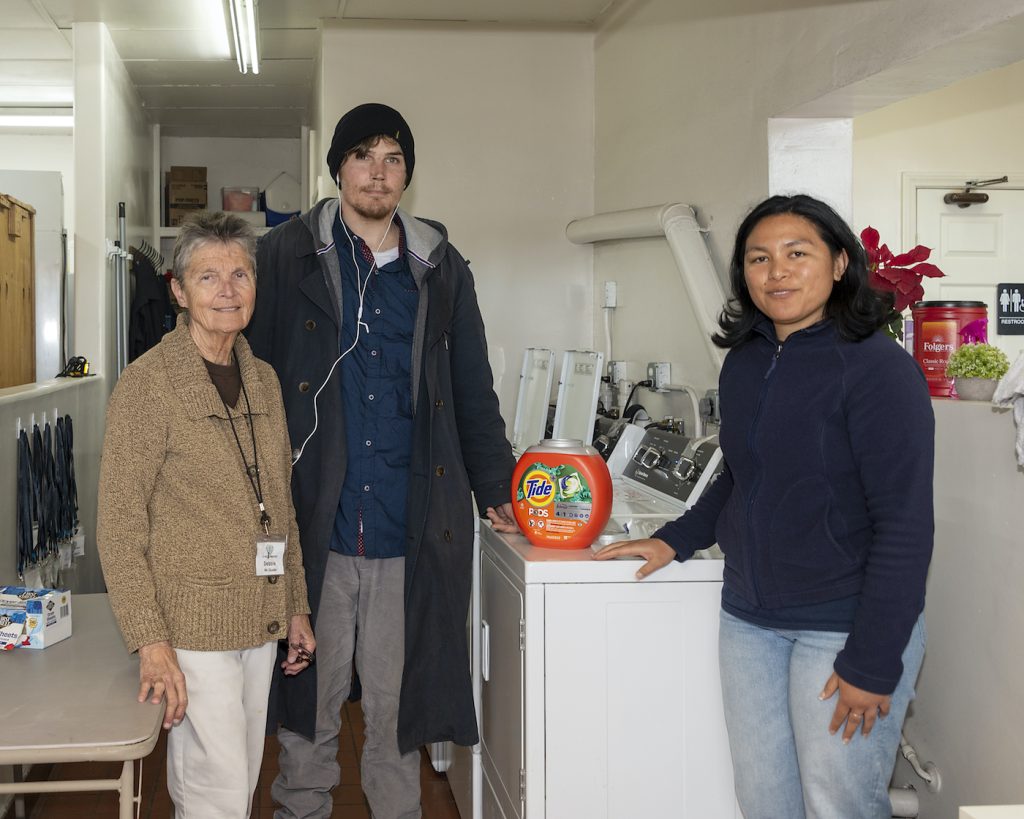 The FVCC opened in 2018. Members usually walk or ride the city bus to get to the center. First time visitors are asked to provide basic client-level information, and they are enrolled in the FVCC Companionship Club. Thereafter, they can drop in anytime they need services or food. The center's expanding use of the Homeless Management Information System (HMIS) – a secure online database – supports members in their seeking out of social services they are eligible to receive.
Multiple survey statistics in 2019 show that California had the highest poverty rate in the U.S., with 28 percent of Californians living in or near the defined poverty line. In 2021, Santa Barbara County's poverty rate was at 13.5 percent. [ref: www.ppic.org/interactive/california-poverty-by-county-and-legislative-district] 
Addressing that sobering figure, the FVCC serves between 55 and 75 members of Santa Barbara's homeless community per day, which the staff says comprises three to four percent of Santa Barbara County's homeless population. This figure is based on the 2023 Point-in-Time Count – the annual census of unhoused individuals in Santa Barbara County. In December 2021, the FVCC had a total of 961 visits from Santa Barbara's homeless community. That number increased to more than 1,100 visits in November 2022.
Addressing the community and anyone considering a donation, Chief Development Officer Regina Ruiz, PhD shares, "The FVCC accomplishes what a paid staff of several dozen would accomplish, but with only two paid staff members, our large volunteer network, and Sisters and Friars. One dollar donated to the FVCC stretches further than it would in most nonprofit organizations serving the homeless. Feel free to come by the center, and please visit our website."
Donate now!
frvirgilcordanocenter.org
805-683-6383
Chief Development Officer: Regina Ruiz
Mission
Faithful to the traditions of St. Francis of Assisi and St. Vincent de Paul, we provide a place of welcome and support for the human and spiritual well-being for our sisters and brothers in need.
Begin to Build a Relationship
We know you care about where your money goes and how it is used. Connect with this organization's leadership in order to begin to build this important relationship. Your email will be sent directly to this organization's director of development and/or Executive Director.
Finding a job is all about persistence. At the Fr. Virgil Cordano Center, I got the proper nourishment which was good for my body and made me a lot healthier. And then I got a lot of encouragement from the staff and volunteers, too.