Bucket Brigade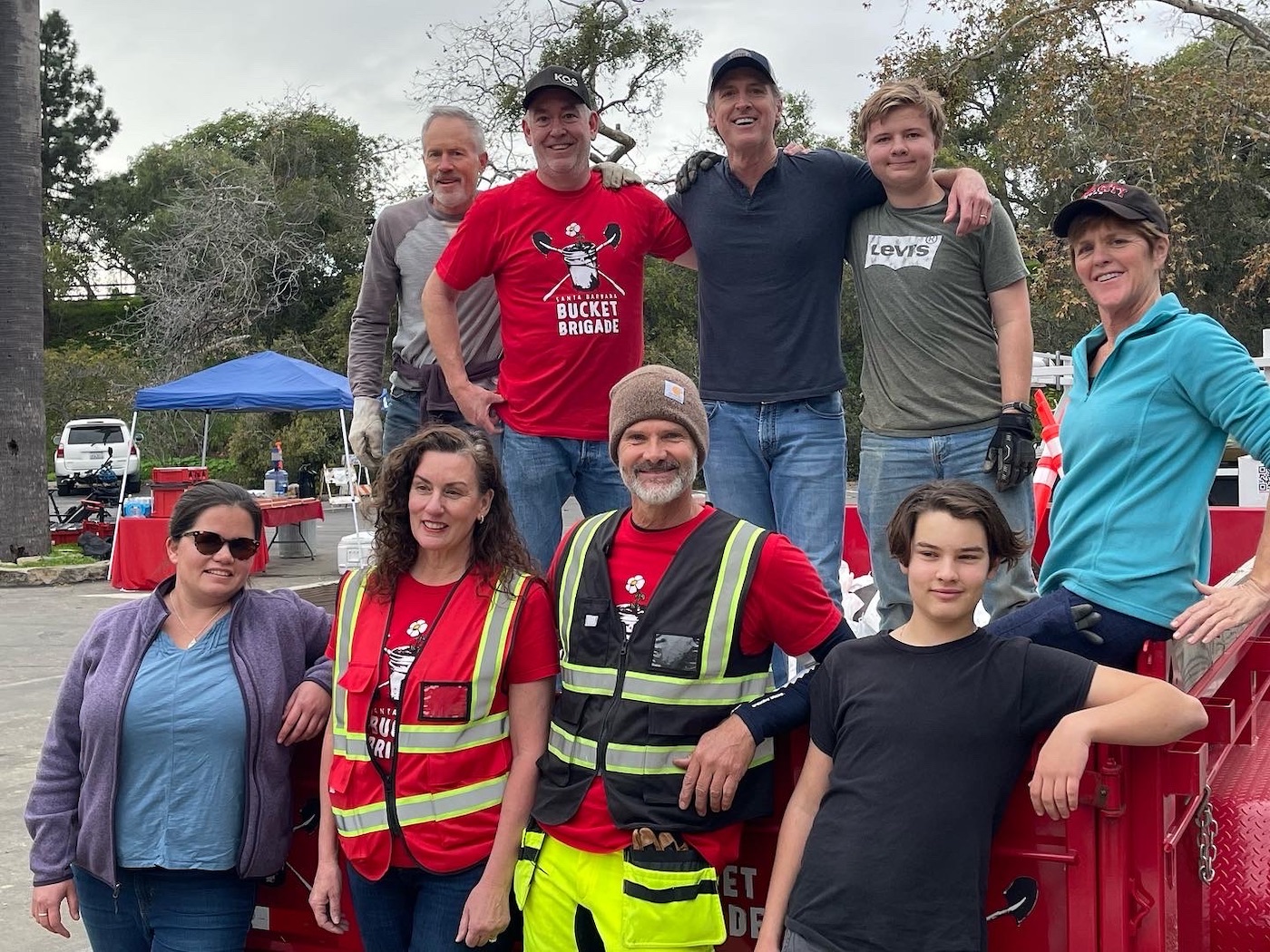 Back in 2018, when the Montecito debris flows left huge swaths of the village buried under hundreds of tons of mud and other detritus, the Santa Barbara Bucket Brigade (SBBB) was all over the news. The first responders had moved on, and the job of digging out was just beginning. Nearly every outlet around ran photos and videos of people banding together to use shovels and wheelbarrows as well as heavy machinery to help out their neighbors, with such celebrities as Jack Johnson donning wading boots and joining the volunteers spending months in the muck. SBBB founders led an army of caring helpers from all walks of life to not only dig out neighbors' homes, but also clear and restore open spaces, restore trails, and reconnect the community. 
But that was more than five years ago. The hoopla has faded, attention has gone elsewhere. But the Bucket Brigade hasn't let down its guard.
In fact, just this last January 9, when the nonprofit had planned to remember the fifth anniversary of the 2018 debris flows with another community ceremony, another massive winter storm had a different idea, instead resulting in evacuations, flooding, and landslides all across California. So once again, the Bucket Brigade loaded up buckets and shovels, sandbags and tarps, and went to work for our community.
The 2023 storms were a reminder of the value of SBBB and how it has evolved over the years. The ethos has responded to the knowledge that in the wake of larger and more frequent disasters, just wanting to help our neighbors is no longer enough. We need to become good at helping. Which is why SBBB has been focusing on building a network of experienced volunteer leaders throughout Santa Barbara County so that we can be more prepared to face the challenges of climate change.
"Every week, the Bucket Brigade is either organizing, training, or deploying volunteers to restore and improve part of the community," said Abe Powell, SBBB Co-Founder and Executive Director. "If you want to be good at restoring your community after a disaster, you should practice by doing that exact same work all year long."
Which is why SBBB was able to spring into action so quickly in the 2023 storms, deploying to more than 40 properties after the flooding, tarping endangered areas, installing sandbags, digging out houses on the west side and a trailer park on the east side, as well as homes in Orcutt in North County.
"We mitigated flooding and worked to prevent or dig out from landslides," Powell said. "There were more than 40 sites – almost half as many as we worked at in 2018."
After three months of response work, SBBB returned to training and organization mode, restoring different parts of the community each week. At Harding Elementary School, the Bucket Brigade organized their volunteers to complete a schoolyard restoration using native plants. They moved back over to Elings Park to create an accessible picnic area and plant a native pollinator garden and food forest, a half-acre habitat restoration, that also serves as a fire break for the nearby homes and Monroe School. Last summer, the nonprofit trained 50 high school students in advanced leadership techniques at Bucket Brigade Academy, which also involved restoring different areas of Elings Park each week.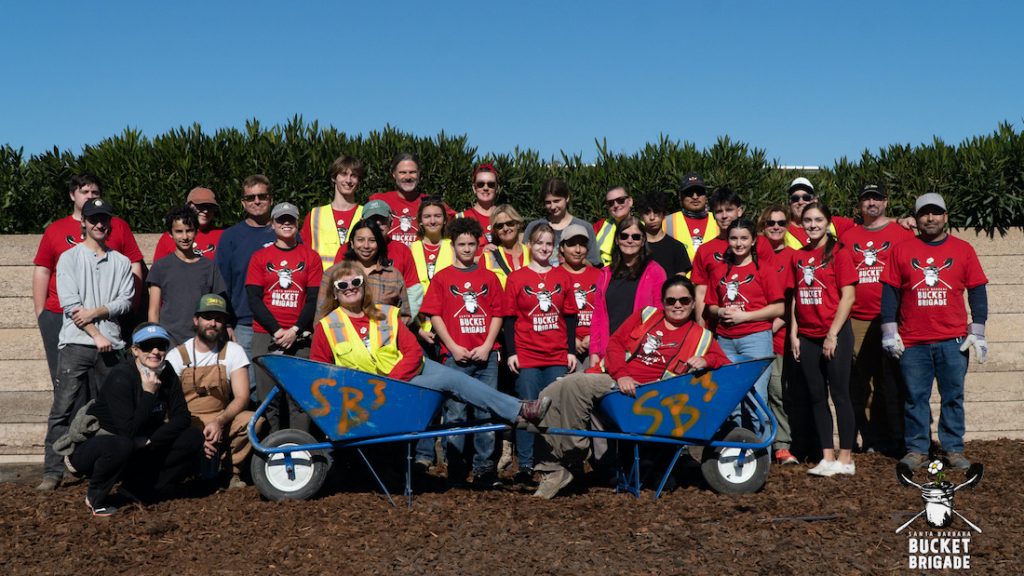 Their projects over time have included creating "safe routes to school" in several locations in Montecito, including the much-publicized path from the Lower to Upper villages without ever having to encounter vehicles, but also, most recently, along Barker Pass from South Sierra Vista to Sycamore Canyon, and along Camino Viejo in the Cold Spring School district.
Those two trails were constructed with trained youth volunteer leaders, Powell said.
"There's so much value in this system of training people, especially young people, to deal with the challenges we're facing by going out and making a difference. Instead of complaining about it or just staring at their phones, the Bucket Brigade gets people out on the side of the road into neighborhoods that need help doing things and helping people. This is a path forward that's viable, and it really helps young people deal with the stress that they're feeling associated with what's going on with the environment and climate change."
It's all part of SBBB's formula for the future and whatever that might bring, Powell said.
"The Bucket Brigade at its core is a community resilience engine," he explained. "We've been training people all year to be ready to help the community in a time of need. All these projects are ultimately about being ready going into this El Niño winter. That's where the rubber meets the road."
Of course, running such an organization takes a lot in terms of operating funds and purchasing the necessary equipment. Supporting SBBB includes everything from sponsorships to small monthly donations. Volunteers are also always welcome.
"People joining us is what makes all of what we do possible," Powell said.
Details are available on the Bucket Brigade website: https://sbbucketbrigade.org.
Donate now!
www.sbbucketbrigade.org
(805) 568-9700
Co-founder and CEO: Abe Powell
Mission
The Santa Barbara Bucket Brigade was created to prepare for and respond to natural disasters and community crises through volunteer training, coordination, and deployment.
Begin to Build a Relationship
We know you care about where your money goes and how it is used. Connect with this organization's leadership in order to begin to build this important relationship. Your email will be sent directly to this organization's director of development and/or Executive Director.
During a crisis, the Bucket Brigade turns helplessness into helping by enabling the community to lead its own recovery effort. The inclusive, welcoming approach gives ordinary people a chance to become neighborhood heroes in a time of need. This is something every community needs right now.
You Can Help Build Resilience in Santa Barbara County
The Bucket Brigade resilience model focuses on people and community.
"The feel-good factor of volunteering is overwhelmingly powerful, especially since we are so privileged in our own lives," says Hy Rosario, a Bucket Brigade volunteer.
"The opportunity to give is returned ten-fold and cannot be overstated."
You can become a Bucket Brigade Member or Sponsor today by visiting sbbucketbrigade.org and clicking the red donate button. Donations can also be made by mail to P.O. Box 50640 Santa Barbara, CA 93150. Your donations help the Bucket Brigade keep the doors open and provide the safety equipment, materials, and leadership needed for year-round community action and uplift.
"Now is the time to reconnect with the Bucket Brigade community," says Co-founder Abe Powell. "Join us as we remember what it means to be good neighbors in a time of need – not just with words, but with deeds."
Key Supporters
Zegar Family Foundation
The Muller Family
Ann Jackson Family Foundation
Christina Kirby and Josh Kulkin
Eric and Wendy Schmidt
Geoff Slaff and Dale Zurawski
The Brittingham Family Foundation
Audacious Foundation
Sharon Bradford/WWW
Foundation
Tony and Kyra Rogers
Jackie & Jeff Schaffer
Nati & Michael Smith
and Anne Smith Towbes