Garden of Earthly Delights
One of the most iconic public gardens in the world, Lotusland is a 37-acre wonderland of more than 20 distinct and uniquely beautiful interconnected garden spaces, each exhibiting a spellbinding variety of exotic plants that are as historic as they are stunning to view. Back in the early 1940s, Madame Walska, an opera singer, socialite, and philanthropist, purchased the property and spent the next four decades working with landscape designers to turn Lotusland into a magnificent garden, with an appropriately dramatic presentation of tropical and subtropical plants. Through her unique vision, Madame Walska arranged to obtain rare flora to curate the varied gardens that contain some 3,500 different species of plants, and 10 times as many specimens, including one of the most significant cycad collections in the country. Lotusland's gardens range from succulents to olive trees and exotic orchards and from formal ornamental flowers to theater and topiary gardens. 
As the garden is located in the middle of a highly-prized residential area of Montecito, it took nearly a decade after Madame Walska's 1984 death to secure the county permits to allow Lotusland's stewards to share her luminous legacy with Santa Barbara locals and visitors from all over the world. Thirty years later, Lotusland continues to conserve and enhance the gardens that serve as a serene and contemplative place to enjoy and marvel at its astonishing beauty.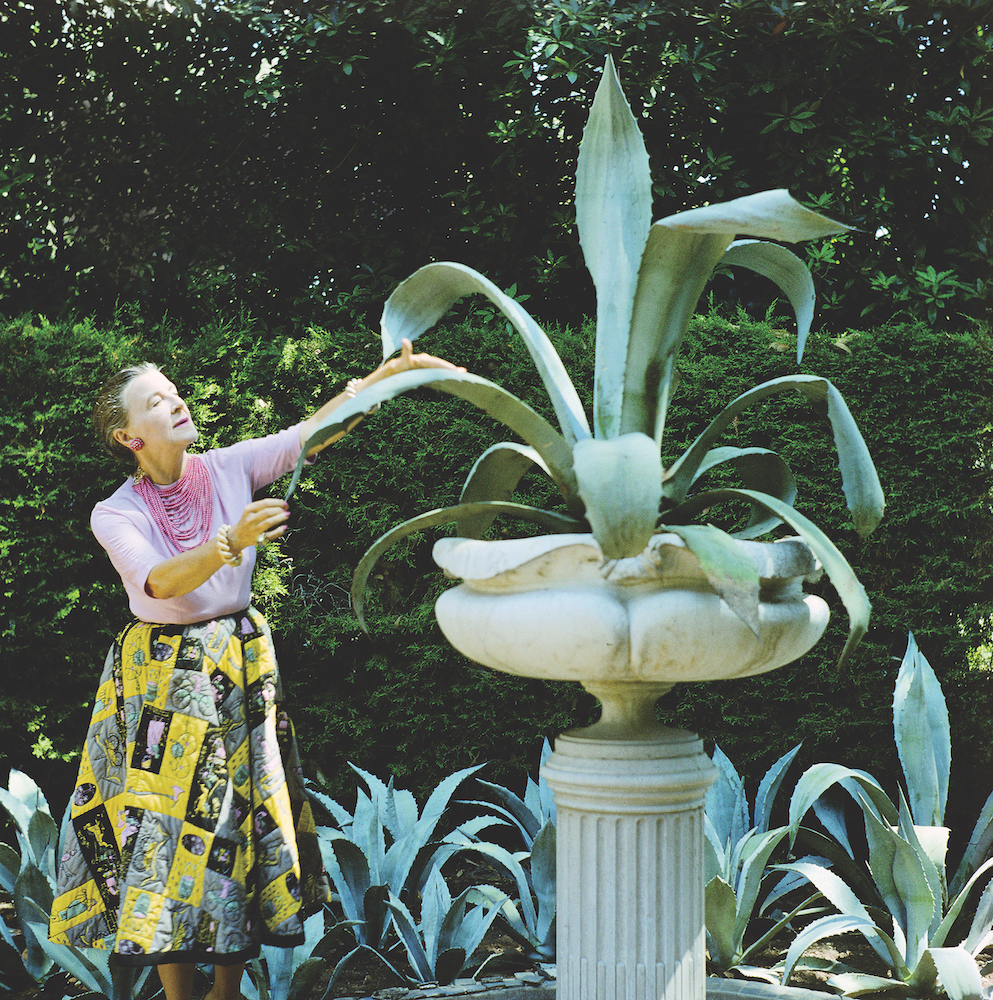 Visitors also get to experience the magnificence of the historic buildings on its grounds, including a Mediterranean-style mansion designed by Reginald Johnson of Miraflores (aka the Music Academy), the Huguette Clark estate, and the Biltmore Hotel renown, and others from famed Montecito architect George Washington Smith. Along the way, the garden, and its grounds and approaches, have also served as a leader and an inspiration in preservation and earth-friendly practices.
"Lotusland is here for enjoyment and education, conservation, and research," says Executive Director Rebecca Anderson. "Our goal is to also be a resource and an example, not only for other public gardens, but also private homeowners, for beautiful but sustainable practices."
But the garden's Conditional Use Permit that limits Lotusland's visitor capacity as well as type and quantity of events each year also puts a strain on its financial stability, Anderson says.
"Admissions only cover 13 percent of our expenses," she says. "We have had a structural deficit in our budget every year since we opened, and have to draw down disproportionately on our endowment annually just to operate."
Accordingly, Lotusland is marking its milestone anniversary with both celebration and a new multifaceted fundraising campaign. The Lotusland Forever project aims to raise $30 million with half of the funds earmarked to add to its endowment to balance the budget, with the other $15 million needed for capital improvements for restoration, preservation, upgrades to infrastructure, and innovative initiatives.
"It's our first Master Plan since 2003, and includes all of the garden's improvements for the next generation," says Anderson, adding that the long-range vision incorporates an updated nursery and education spaces and structures, solar energy systems, and a comprehensive water security program with both storage and capturing of stormwater runoff, and new restrooms located in the gardens. "We've been focusing on restoring and maintaining the garden and the collections for 30 years, and we haven't had the luxury of tending to the buildings and beyond. It's time."
Donate now!
Mission
Lotusland preserves and enhances the unique, historic estate of Madame Ganna Walska, cares for and improves its collections, and develops its conservation and horticulture programs, so they educate us, inspire us, and advance our understanding and appreciation of the importance of plants in our lives and in the life of the planet.
Begin to Build a Relationship
We know you care about where your money goes and how it is used. Connect with this organization's leadership in order to begin to build this important relationship. Your email will be sent directly to this organization's director of development and/or Executive Director.
Lotusland is a center of botanical excellence, architectural significance, horticultural education, and simply an inspiration to all who visit. We are honored to be a part of such a significant and critical Capital Campaign as Lotusland celebrates its 30th anniversary as a public garden. Our intention is to motivate and encourage other loyal (and future) Lotusland supporters to join us to preserve and protect this world-class space left by Madame Walska. We are very excited and proud to be contributing to the Garden entering its next era.
Securing Lotusland's Future Success
There are myriad ways to be a part of Lotusland's landmark $30 million fundraising campaign, which allows for naming rights to the gardens and features, as well as key positions and programs that honor the character and immersive beauty of the gardens while balancing the operating budget.
With your help, Lotusland can continue to serve as an awe-inspiring local wonder and model for the next century.
2024 Board of Trustees
David M. Jones, President
Mari Mitchel, Vice President
Lesley Cunningham,
Immediate Past President
Ashley Adelson
Jeanne Anderson
Laura M. Bridley
Merryl Brown
Ron Caird
Geoff Crane
Rachael Douglas
Connie Flowers Pearcy
Anthony Grumbine
Joseph Marek
Elizabeth Patterson
Susan Read Cronin
Jeffrey Romano
Stephen P. Schaible
Mark Schmidt
Wendy Schmidt
Caroline Thompson
Rick Vitelle
Lisa Bjornson Wolf
Crystal Wyatt