"Play is Not a Luxury"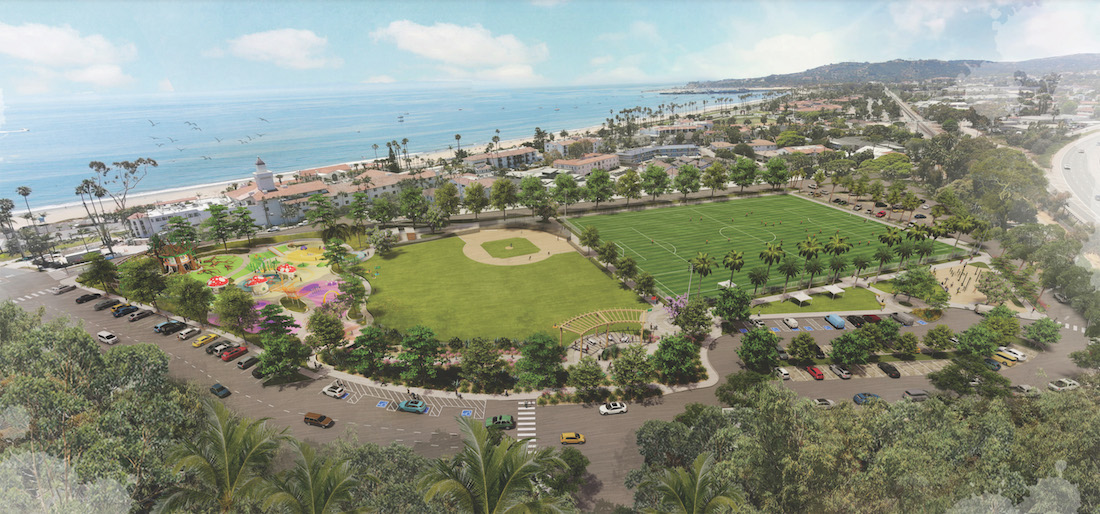 Victoria and Bill Strong brought their baby home with that mix of gratitude and indescribable joy – the heart-squeezing hallmarks of new parenthood. When little Gwendolyn began to show signs that something may be amiss, their pediatrician had them check into Cottage Hospital. Three months later the Strongs took the phone call that would change their lives – and ultimately the lives of others.
"Our pediatrician ordered the simple blood test for SMA (Spinal Muscular Atrophy), which is a rare neuromuscular disease," Victoria says. "Our neurologist called and told me over the phone, 'You have maybe six months. There's nothing you can do.'" The phrase "there's nothing you can do" is to some people a red cape waved at a bull. Meet the aptly named Victoria Strong. "To be told there was just absolutely nothing… we went on our crusade."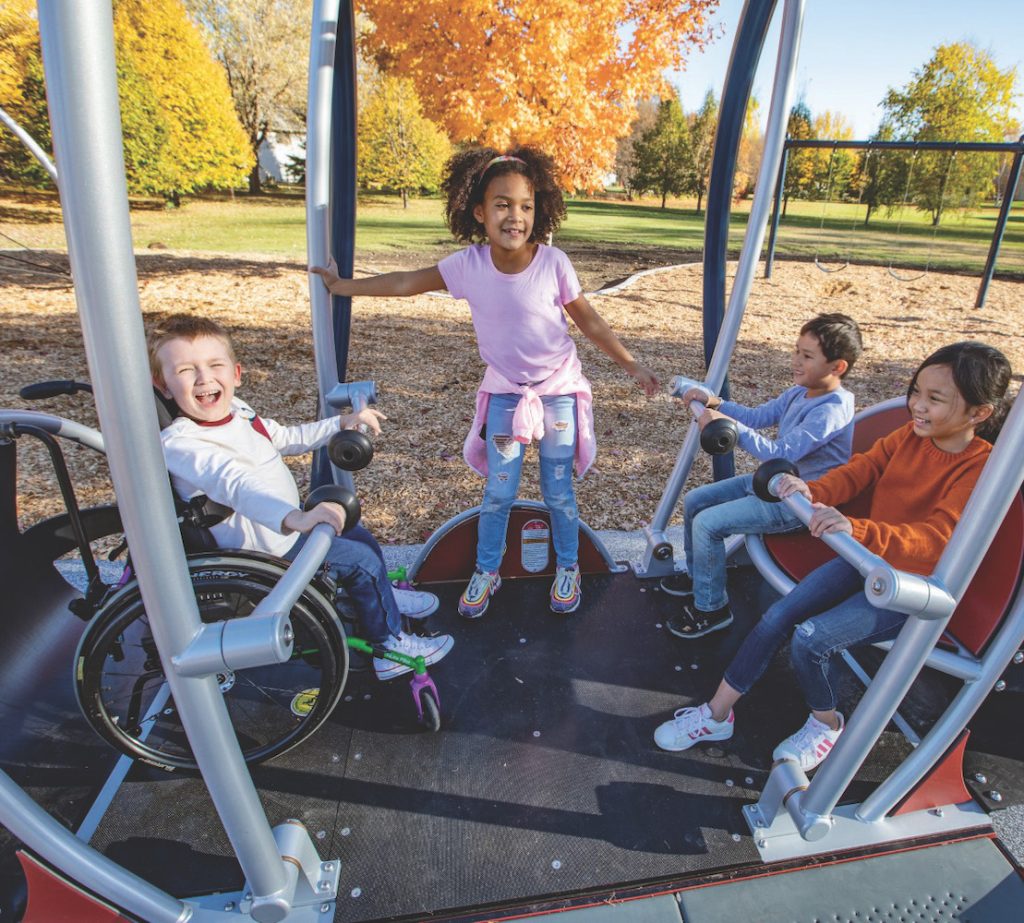 The young couple became activist steamrollers, their dogged efforts moving the mountain. They formed the Gwendolyn Strong Foundation. "Literally from Gwendolyn's hospital bed, we started lobbying congress for increased funding." These pugnacious efforts, and the gloves-off help of Congresswoman Lois Capps, ultimately yielded a new gene therapy for SMA, one that would drastically affect the impacts of the disease and length of life – though not for their own daughter. Largely unable to move or speak but given to rapid finger-tapping as an expression of happiness, Gwendolyn continued throwing sparks everywhere she went.
The Strongs' first walk to the playground included a specialized recumbent chair on wheels, five life-giving machines, and a little girl excited to seize the day. "Gwendolyn was not impacted on her inside," Victoria says. "Like every child, she saw the playground and immediately – here's joy! Here're other children! She would look over and she would tap her fingers. 'What's that over there? Get me over there!' We had to literally carry her chair over the wood chips…" One day at the playground, Gwendolyn and a friend were holding hands when her little playmate asked a simple question: "You have a ramp that comes out of your van. Why don't they have a ramp at the playground so Gwendolyn can go to the top to see the trees with me?"
Today that rhetorical question is being answered with a community project of historic import. The foundation is building Gwendolyn's Playground, a planned, approved, and partially funded 10-acre wonderland of color and accessibility – and of a new way of seeing each other. "When disability is normalized for children in this setting, it changes the way they see the world as adults," Victoria says. Gwendolyn's Playground will be a sprawling, sensory-rich gathering place without the impediments that have made standard playgrounds inaccessible to so many. In years to come, thousands of kids will happily exhaust themselves in the company of new pals, ushering in a new world.
Children have always been our most frank proponents of fairness. "Most of the parents are really loving and they want to say the right thing, but they didn't grow up around disabilities and they get awkward. Then of course," Victoria says through laughter, "the kids run up and rip that band-aid off!" Gwendolyn's Playground can't help but be the cultural sea change that only kids have the untainted power to bring about.
"Kids who were wonderful friends to Gwendolyn in kindergarten, they're in high school now. Seeing the things that they're volunteering for, the ways that they show up… they tell me how Gwendolyn taught them not to worry about their own differences, to be more resilient, to have more empathy. What does it matter? This playground is going to be a catalyst for real change."
Donate now!
www.NeverGiveUp.org
(805) 203-0334
Executive Director: Victoria Strong
Mission
In tribute to the kindness and inclusivity Gwendolyn inspired wherever she went, we are building the first fully inclusive playground in Santa Barbara so all children have the opportunity to just be one of the kids. Gwendolyn Strong Foundation also continues to offer practical family support for the overwhelming expenses of life with a disability, helping give families greater independence.
Begin to Build a Relationship
We know you care about where your money goes and how it is used. Connect with this organization's leadership in order to begin to build this important relationship. Your email will be sent directly to this organization's director of development and/or Executive Director.
The Manitou Fund's support of Gwendolyn's Playground is not a gift but an investment in the standard we hold for this special corner of the world. Unbridled, unrestricted, and totally inclusive play is what truly fosters social growth, empathy, and joy. Its impact ripples out and benefits us all.
Never Give Up
• 25% of the population has a disability, the largest minority group in the world
• Santa Barbara has 0 inclusive playgrounds 2023 is the last year to become a Founding Partner! Join us in leaving a lasting legacy by building inclusion for all. Recognition of your community investment will be artfully displayed within the park.

$2,500 – Commemorative Paver
$5,000 – Community Partner Plaque
$10,000 – Kindness Partner Plaque
$25,000 – Friendship Partner Plaque
$50,000 – Butterfly Partner Plaque
$75,000 – Rainbow Partner Plaque
$150,000 – NEVER GIVE UP. Partner Plaque
Key Supporters
NEVER GIVE UP. Partners $150K+
Manitou Fund,
Nora McNeely Hurley
The Mildred E. & Harvey S. Mudd Foundation and the Sprague Family
Grassini Family Vineyards
Robin & Roger Himovitz
RAINBOW Partners $75K+
The Foley Family
Charitable Foundation
Smidt Family Foundation
Alice Tweed Tuohy Foundation
BUTTERFLY Partners $50K+
Deckers Outdoor Corporation
Grace Fisher Foundation
Belle & Lily Hahn
Hutton Parker Foundation
Montecito Bank & Trust
Mosher Foundation
Natalie Orfalea Foundation
Paskin Family Foundation
Rudi Schulte Family Foundation
Yardi Systems
FRIENDSHIP Partners $25K+
Ann Jackson Family Foundation
Mary & Lucy Firestone
Leanne Schlinger
KINDNESS Partners $10K+
Girl Scout Troop 50396
Montecito Firefighters
Charitable Foundation
Santa Barbara Foundation
Williams-Corbett Foundation