Preparing Everyday for the Worst Day Ever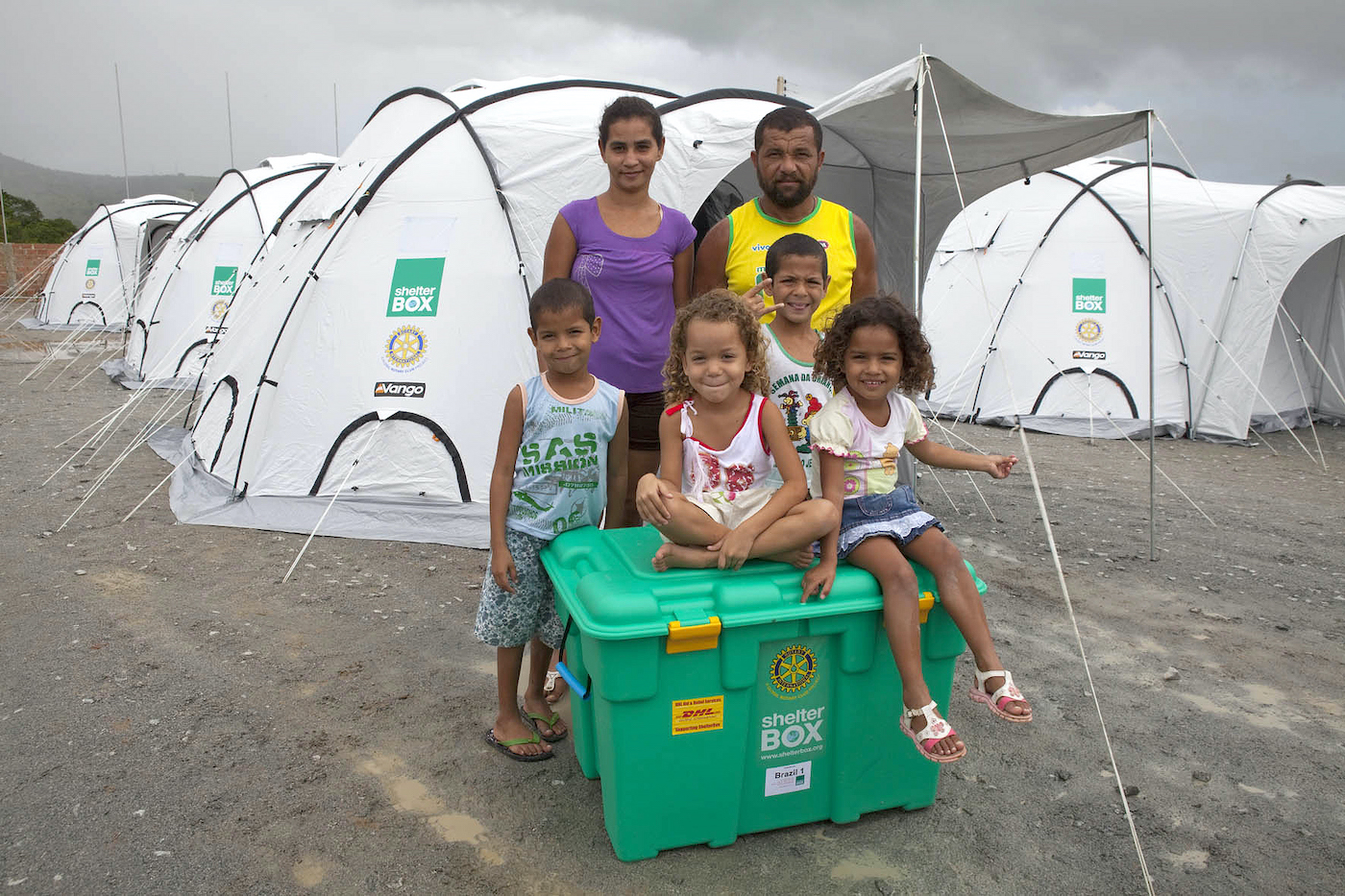 Kerri Murray, a veteran disaster relief professional, first saw ShelterBox in action in 2010 as Haiti was reeling from a devastating earthquake that killed 250,000 people.
"A million and a half people lost their homes in an instant," Murray, who now leads ShelterBox USA as its president, says. "ShelterBox was one of the first organizations on the ground in Port-au-Prince, and it was among the largest providers of shelter aid."
While deployed to Japan after the devastating earthquake and tsunami, and after super Typhoon Haiyan leveled communities across the Philippines, Murray again witnessed ShelterBox on the frontlines of disaster, providing its iconic green ShelterBoxes, replete with humanitarian relief tents, cooking sets, blankets, water purification, mosquito nets, and solar lights.
"Whether you are displaced during a disaster, conflict, or now a global pandemic, shelter is one of the most tangible differences you can make in someone's life," Murray says. "It is the first step in recovery. And, during this COVID-19 pandemic, home is crucial to our health and well-being." It is clear, the work of ShelterBox has never been more important than now, and they are scaling up and adapting their efforts to help more people during the pandemic.
For Murray, taking the opportunity to lead the organization in 2015 was a no brainer. "One of the biggest issues plaguing our planet is the massive displacement of people. With more than 104 million people displaced due to conflicts, natural disasters, or by the consequences of climate change, there are more people displaced today than any time in recorded history." Shelter is an essential human need.
With a U.S. headquarters in Santa Barbara, 17 global offices, a paid staff of 130, and hundreds of highly trained, response-team volunteers being regularly deployed in the world's hot spots, ShelterBox provides shelter to 250,000 people a year. ShelterBox is Rotary International's official project partner in disaster relief. Their work to deliver lifesaving shelter in the world's most extreme conflict zones earned ShelterBox two Nobel Peace Prize nominations in 2018 and 2019.
But the challenge is mounting at a dizzying clip. Murray recalls giving a speech at the United Nations/Rotary day last year. At that time, the number of displaced stood at 88 million. Within a year it had surged nearly 20%.
To meet the need, Murray wants to quadruple ShelterBox's footprint to shelter one million people a year. And while a daunting challenge, she is heartened by her Santa Barbara neighbors, who, unfortunately, know all too well how fast disasters can destroy lives. "We live in a community with an innate drive to give back and make a difference," Murray says. "There are so many people that care about the work of ShelterBox and believe that shelter is a basic human right. Our supporters want to help people who have lost everything, people they will never meet, but whose lives they can transform."
Mission
ShelterBox is a global organization made up of people who believe in shelter as a human right – that shelter from the chaos of disaster and conflict is vital.
Begin to Build a Relationship
We know you care about where your money goes and how it is used. Connect with this organization's leadership in order to begin to build this important relationship. Your email will be sent directly to this organization's Director of Development and/or Executive Director.
Life-Saving Shelter
"I serve as a ShelterBox Response Team (SRT) member, am chair of the Board of Directors for ShelterBox, and am a longtime donor myself. I see directly how efficient, effective, and transparent we are with donor money. I also witness how those charitable dollars translate into life-saving shelter and supplies to families who have lost everything in disaster and conflict situations. Donors truly make the work of ShelterBox possible."
Meeting a Global Crisis
ShelterBox currently spends about $20 million a year globally to provide a quarter of a million people the shelter and supplies to rebuild.
"Our goal is to scale to shelter one million people a year." A feat that will necessitate, as Murray says, "raising a lot of financial support. Shelter is the first in recovery and it is an area that is chronically underfunded and overlooked. Shelter is deeply connected to livelihood. When you have a place to call home, you can get back to work and your children can get back to school."
To get there requires donors like you. ShelterBox makes it easy to support the work with a registry where you can "Stock A Box" with everything a family needs to rebuild, including emergency tents. For $1,000 you can cover the cost of an entire box for a displaced family.
To help, visit: www.ShelterBoxUSA.org
Board of Directors
Katherine Fick, CHAIR, Senior Counsel – IBM Corporation
Rob Wavra, VICE CHAIR, Expert Associate Partner – McKinsey & Company
Jan Stern Reed, SECRETARY, Former Senior Vice President, General Counsel and Corporate Secretary – Walgreens Boots Alliance, Inc.
Marlise Skinner, TREASURER
Bruce Heller, President – JaRyCo Development, LLC
Mahesh Turaga, Director, Business Development/Partner Management, VS, Americas – Dassault Systemes
Samer Jaber, Dermatologist – Washington Square Dermatology
Robert Reid
Lopez Island, Washington
President, Waivunai – The Island Development Initiative
Peter Scott, Chief Executive Officer – American Academy of Optometry (AAO)
Matt Gerber, Executive Vice President of Global Business Development – Cardboard Technologies
Glenn Garrett, Managing Director – GFT Technologies
Steve Horan, Global CIO and Independent Advisor
Steven Tonkinson, Managing Director – Tonkinson Financial
Stephen Masterson, CPA – CGMA