Breast Cancer Resource Center: THRIVE is Alive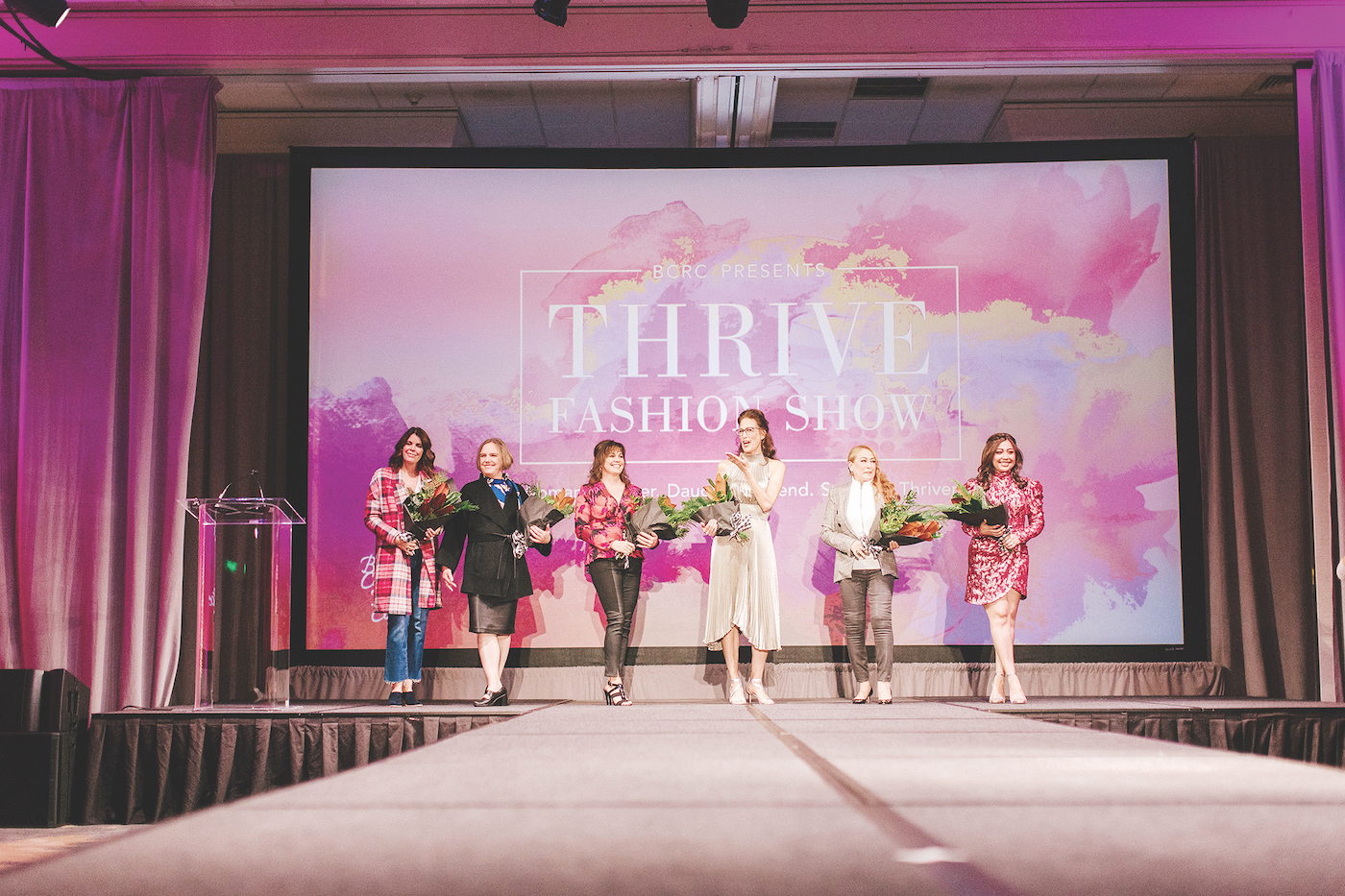 Webster's Dictionary defines thrive as a verb meaning "to grow vigorously, flourish" or "to progress toward or realize a goal despite or because of circumstances."
No wonder the Breast Cancer Resource Center of Santa Barbara – the nonprofit that provides free educational resources and unique support services for women currently facing a breast cancer diagnosis and/or undergoing treatment – a few years ago chose Thrive as the new name for its Fashion Show fundraiser.
The annual event serves as a celebration of the courageous BCRC clients through "modeling" appearances by a select few of the women who proudly showcase their confidence and strength by donning designer threads to walk the runway and sharing their cancer journeys via video segments.
"We wanted to recognize and celebrate the journey that these women are taking," explained BCRC Executive Director Silvana Kelly. "Whether they're in treatment now, or are post-treatment and surviving, or just living with the disease, the thought is, let's celebrate our life, celebrate who we are, what we've been through and where we're going."
Where one of the cancer survivors/thrivers went is somewhere she never would have imagined prior to her diagnosis, said Armando Martinez, BCRC's Director of Donor Engagement. "She was a physician but through the process of being diagnosed and her cancer journey she let her practice go and is now dedicated to helping other women that are also managing breast cancer. Her thrive story is that although her life took a turn when cancer hit, it also deepened her purpose when she was able to reapply her medical background toward helping other women in a more focused way. That's why we realized it was a great idea to have the women tell their own stories."
Being seen walking the runway at the THRIVE Fashion Show also allows the women to see each other in a different light, Kelly said.
"It's a way to share that they're back to being a mom, being a spouse, a caregiver, or whatever multiple roles that they've played. It's a way to say, 'I'm back.'"
Surprisingly, after taking 2020 off due to the strict guidelines on gatherings during the earlier stages of the COVID-19 pandemic, the THRIVE Fashion Show is also back, albeit virtually. This year's event will be filmed at the Belmond El Encanto's Lily Pond in the Santa Barbara foothills and broadcasted on Sunday, May 2, via Zoom to paid viewers and sponsors with an intention to also have it aired on KEYT-TV over Mother's Day weekend.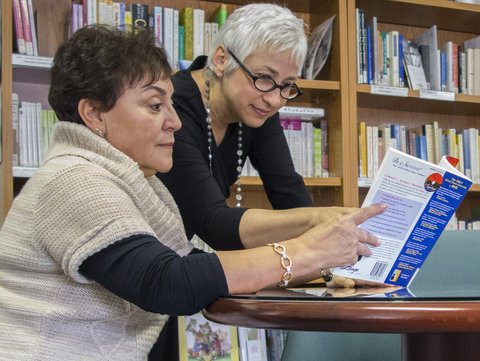 The women will be invited one at a time to have their hair done and makeup applied, and then shoot their video in their own words, Martinez said. The videoclips will then be compiled with footage of the fashion show itself that will take place at the Lily Pond.
"It creates a sense of joy and accomplishment to say and show, 'This is what I've been through and this is my journey,'" he said. "Even if it's in a really small format, it's still important for the families of these women to see them complete a cycle of sorts, even if they're in continued treatment. It's a point in time where they can celebrate and be seen as vibrant."
That vitality, of course, is the main purpose of the Breast Cancer Resource Center, whose unique support services include everything from a lending library to peer groups to hands-on practical programs such as reflexology and reiki treatments, all in service of empowering a sisterhood and create healing by fostering hope to counteract the terror of facing a cancer diagnosis.
"Our services are unique in that we approach the healing process and the journey by looking at mind, body, and spirit," said Kelly, who, like most of the staff at BCRC, is also a breast cancer survivor. "When we started 23 years ago, that wasn't a generally accepted concept. We were really blazing a trail to provide patient services."
Nowadays, thankfully, such forward-thinking medical providers as the Ridley-Tree Cancer Center offer a number of patient support services, but only BCRC exclusively deals with women diagnosed with breast cancer, an important factor that makes the nonprofit services still vitally important, she said.
"Women tend to want to be with other women, and going to a support group, you want to be with people who are going through the same thing you are."
With the pandemic still preventing most in-person gatherings, particularly for people who are immunosuppressed such as cancer patients, most of BCRC's services have moved online, Kelly said.
"We've now migrated almost everything to a virtual platform, including support groups that meet twice a month and one-on-one sessions between clients and support personnel over the phone or Zoom. There's even remote Reiki healing and an online sound healing session with crystal bowls and chimes."
Even so, Kelly said, people are still coming to the center, although the traffic has diminished.
"So we're still open in the office," she said. "I'm glad that we are because that personal human touch really matters when you are in such sensitive circumstances. It's important for the women to sit across from us and go, OK, these ladies are healthy, they're thriving. It inspires them and encourages them to get through."
Which circles back to the THRIVE Fashion Show, which was previously one of the biggest sources of revenue for BCRC, which receives no government funds, instead relying on donations from individuals, businesses, and private foundations.
"It's been quite the challenge for us to get the message out that we are still open and are still available to provide support to the women who need us," Kelly said, adding that even though most oncologists already refer their breast cancer patients to the center, others need a little push. "Sometimes we feel like medical sales rep, making the rounds to sit in front of the doctors to keep them aware of what it is we're doing."
What's even tougher, though, given the continuing coronavirus crisis, is making sure the funds will be there to keep their services bustling.
"It's really tough for the fundraiser because people really like to get to go to events when they make donations, which is understandable." Kelly said. "They want to have some fun. The question for us is how we keep those people involved. How do we keep them connected to what it is we're doing?"
Hopefully, the fashion show, by attracting sponsorships and ticket sale donations, will fulfill BCRC's fundraising needs. After all, it's a celebration of life. And who doesn't want to thrive?
Breast Cancer Resource Center is located at 55 Hitchcock Way, Suite 101, in Santa Barbara. For more information about the services offered, visit bcrcsb.org or call (805) 569-9693.
Mission
Breast Cancer Resource Center of Santa Barbara (BCRC) is a community resource center that empowers women who have been diagnosed with breast cancer to advocate for themselves and make informed decisions regarding breast health. At the BCRC women are heard and find emotional support in actively navigating their cancer treatment and survivorship health.
Begin to Build a Relationship
We know you care about where your money goes and how it is used. Connect with this organization's leadership in order to begin to build this important relationship. Your email will be sent directly to this organization's director of development and/or Executive Director.
A Daughter's Gratitude
"My mom found BCRC as this incredible support group for her. Family can offer so much, yet you need to step outside and be with a group of people who are also going through this horrible time in their life. To be able to walk into a door with bright faces and uplifting spirits, you come in feeling low and walk out feeling better having connected with other people going through what you are going through."
A Lasting Gift
During the pandemic, the Breast Cancer Resource Center was forced to dip into its $250,000 in reserves to maintain operations. In order to ensure the BCRC can plan for the future and its services remain available to all who can benefit from its programs, is to build a BCRC endowment.
Your financial support and family legacy will directly reverberate through time and affect those who will be dealing with this disease in the future to find support and heal from the inside out.
To support the BCRC, reach out to Director of Donor Engagement Armando Martinez directly: armando@bcrcsb.org
Board of Directors
Rose Hodge, PRESIDENT
Evie Sullivan, TREASURER
La Shon Kelley, SECRETARY
Dominic Caulori, DMD, FICOI
Laurel Hansch, MD
Audrey Nolan
Carol Roe
Deborah Turturro, NP
Frank Tabar
Corinna Gordon, HONORARY
Olivia Newton-John, HONORARY
Frederic Kass, M.D., HONORARY
Sandi Nicholson, HONORARY