CEC's Santa Barbara Earth Day Green Film Festival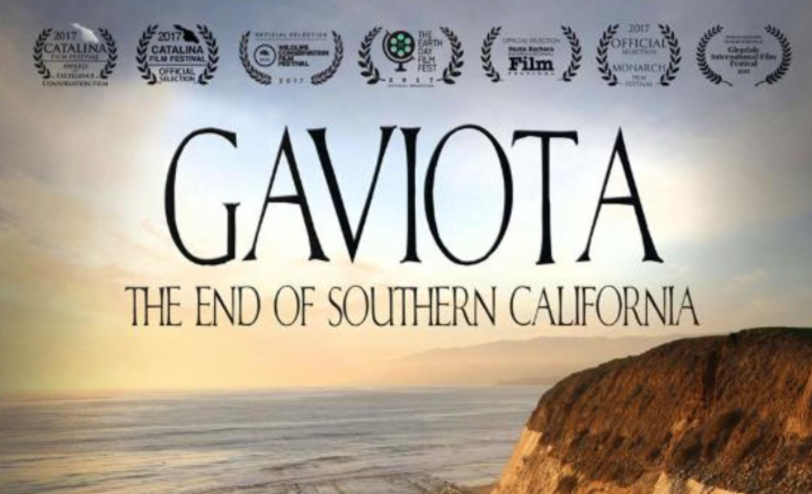 Films include Gaviota: The End of Southern California and Better Together
Featured as a part of the Community Environmental Council (CEC) Santa Barbara Virtual Earth Day celebration, the Green Film Festival will share a collection of over a dozen Earth-centered films from around the world during the festival, which is live online at http://sbearthday.org on 4/22, 23 & 24, as well as remaining with recorded content viewable from that site for a month, until 5/21.
The Santa Barbara oil spill in 1969 sparked Earth Day, 52 years ago. Community Environmental Council will hold the 51st annual Santa Barbara Earth Day festival virtually this year. Films featured at the CEC Santa Barbara Earth Day Green Film Festival fulfill the mission to advance environmental and social justice, environmental regeneration, climate healing and community resilience. Selections feature local films as well as a collection of short films from around the world. Highlights include:
Gaviota: The End of Southern California
Trailer: https://www.youtube.com/watch?v=hf7XL4eXV2g
Produced by Tamlorn Chase and Directed by Shaw Leonard, Gaviota: The End of Southern California is a 40-minute film that explores one of the most threatened biodiversity hotspots in the world. In a monumental collaboration of artists, activists, and environmental organizations, this film documents the wildlife that thrives here like no other place in Southern California. Meticulously filmed over the course of five years, the film leads audiences from the ocean floor of the Santa Barbara Channel to the peaks of the jagged Santa Ynez Mountains. This wild journey crosses paths with breaching humpback whales, red-tailed hawks and elusive mountain lions. With nearly 90% of Southern California's coast lost to development, the preservation of this coastline is the last bastion of hope for wildlife fighting to survive against a world closing in on them.
Better Together
Trailer: https://vimeo.com/312615053 
The 1969 Union Oil blowout mobilized the Santa Barbara community to fight for the environment, inspiring the creation of many nonprofit organizations, Earth Day, the Environmental Protection Agency and one of the first interdisciplinary Environmental Studies programs. The legacy of the oil spill continues to inform local citizens, who have come together over the years to protect the air and water, preserve open spaces and for each other, as to when 3,000 volunteers joined the Santa Barbara Bucket Brigade to dig mud from homes after the deadly 2018 debris flow. As the world faces a global climate disruption, community resilience is more important than ever, and this one has practice.
"We all feel like we're part of an ecosystem, that there's an ecology of our relationships, so that what affects one person, affects us all in some way. We're tied in an inescapable web of mutuality and interdependence." — David Pellow, Chair, UCSB Environmental Studies Program
Better Together, narrated by Christopher Lloyd, directed by Isaac Hernandez and produced by Mercury Press International, features the following organizations: 350.org-Santa Barbara; African Women Rising; Chumash Maritime Association; Citizen's Planning Association of Santa Barbara County; Committees for Land, Air, Water and Species; Community Environmental Council; Direct Relief; Environmental Defense Center; Food & Water Watch; Get Oil Out!; Gaviota Coast Conservancy; Habitat for Humanity of Santa Barbara County; Mission Blue; Montecito Trails Foundation; Pisces Foundation; Santa Barbara Audubon Society, Santa Barbara Bucket Brigade; Santa Barbara Channelkeeper; Santa Barbara County Search and Rescue; Santa Barbara Declaration of Environmental Rights; Santa Barbara Wildlife Care Network; SB Strong; Sierra Club Santa Barbara; The Solutions Project; and UCSB Environmental Studies.
CEC's Santa Barbara Earth Day Green Film Festival was produced by Mercury Press International.
Donate now!

Mission
The Community Environmental Council (CEC) advances rapid and equitable solutions to the climate crisis – including ambitious zero carbon goals, drawdown of excess carbon, and protection against the impacts of climate change. CEC was recognized as a 2020 California Nonprofit of the Year and a City of Santa Barbara Climate Hero and is led by CEO Sigrid Wright who was recently named 2022 Congressional Woman of the Year. CEC has worked since 1970 to incubate and innovate real-life environmental solutions that directly affect the California Central Coast. Our programs lead to clean vehicles, solar energy, resilient food systems, and reduction of single-use plastic.
Begin to Build a Relationship
We know you care about where your money goes and how it is used. Connect with this organization's leadership in order to begin to build this important relationship. Your email will be sent directly to this organization's director of development and/or Executive Director.
Clear Thinking on Climate Change
CEC helped me understand the basics and the complexities of climate change, and how to take steps in my life to make positive changes. I also gained a deeper understanding of how to strategically bring environmental sustainability into my work to help clients be successful.
Teaching Teens to be Climate Stewards for a Better Future for All
Community Environmental Council (CEC) piloted their Climate Stewards certification program for teens as a one-day-only workshop in the fall of 2023. The nonprofit is now raising funds to support the development and implementation of the Youth Climate program to launch more fully in 2024. 
Every donation, no matter the amount, is critical toward CEC's mission to ensure a sustainable and resilient future for California's Central Coast through such local-led initiatives that advance rapid and equitable solutions to the climate crisis, while also fostering greater community connections.
Key Supporters
Anonymous
Anonymous in honor
of Karl Hutterer
Mary Becker
Leslie Sweem Bhutani
& Ashish Bhutani in honor
of Pat & Derrell Sweem
Diane Boss
James S. Bower Foundation
Patricia and Paul Bragg
Foundation
Sheila & Tom Cullen
Emily, Dan, Casey
& Willow Engel
G. A. Fowler Family
Foundation
Dorothy Largay
& Wayne Rosing
John C. Mithun
Foundation
Mithun Family Foundation
Charles & Betsy Newman
Natalie Orfalea
Foundation
Hutton Parker Foundation
Michel Saint-Sulpice
Judy Stapelmann
Suzanne & John Steed
Elizabeth Weber
Yardi Systems
Zegar Family Foundation