Taking Pride in Their Continued Impact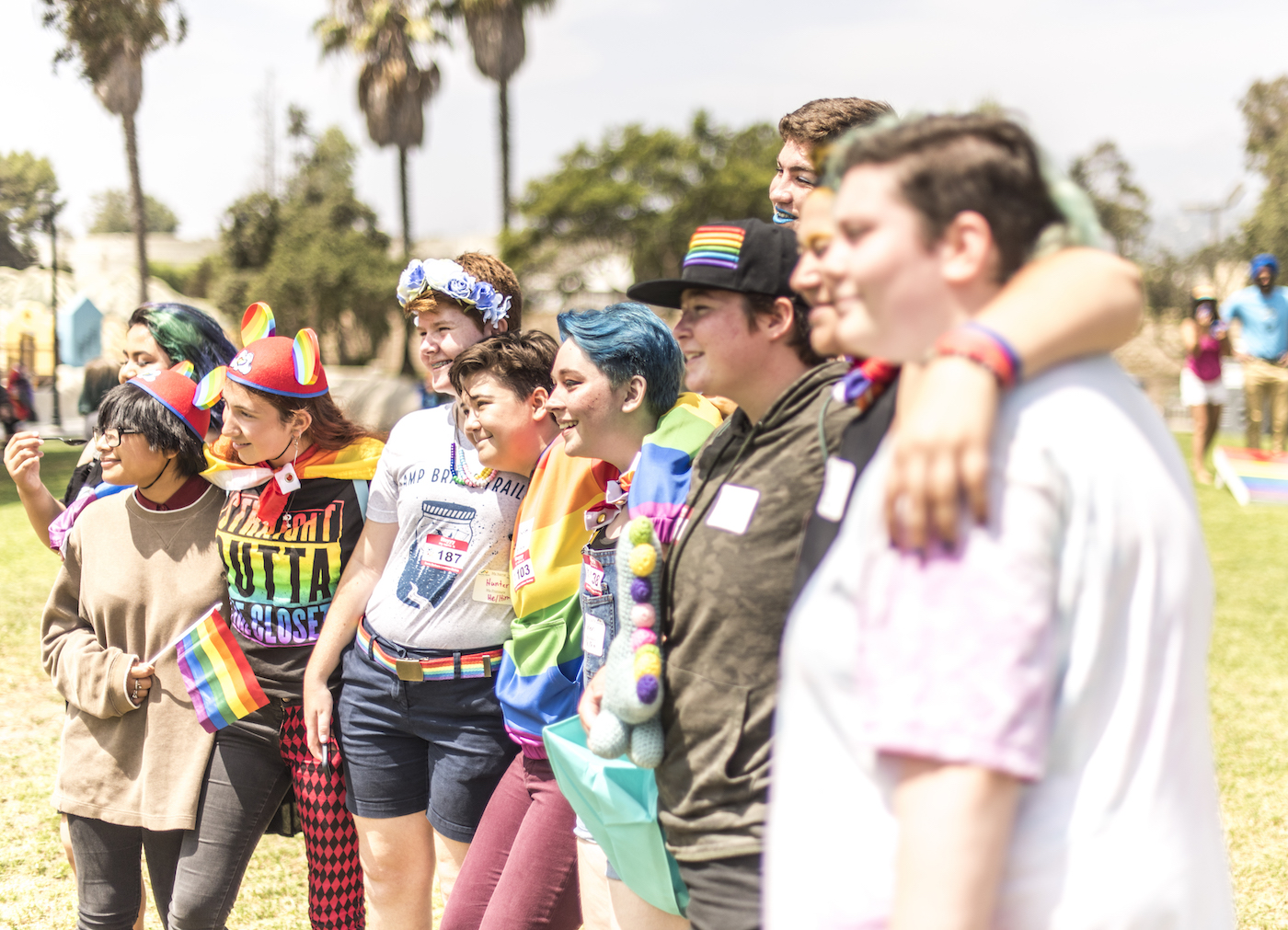 For many nonprofits in Santa Barbara and around the nation, the height of the COVID pandemic was a time to retrench, perhaps scale back operations or even temporarily close their doors. Pacific Pride Foundation (PPF), on the other hand, not only kept nearly all its services available, but also expanded some of its programs in response to the pandemic's outsized impact on the LGBTQ+ community.
"We were essential, and we stayed open, and we shifted how we were functioning. We're constantly pivoting to address the corners of our community that are most underserved," said Kristin Flickinger, PPF's executive director, who started in the position in July 2020, four months into the pandemic. "COVID is certainly one of those places."
PPF's for decades has stood at the forefront of local nonprofits for its efforts in advocacy and education with such popular offerings as its Proud Youth Program, Proud Older Adults groups, and counseling services and such wildly successful events as Pacific Pride Festival, Royal Ball, and PROUD Prom (which this year brought two-time Grammy Award-winning musician Lil Nas X and SAG Award-nominated actress and writer Hari Nef virtually to town). But COVID also brought a need for greater outreach efforts as the community suffered from the pandemic's non-viral problems.
PPF had to shut down its in-person HIV clinic due to health and safety concerns – the organization is already working to hire more staff to restart the program – but more than redoubled its focus elsewhere, Flickinger said.
"There's a huge need in opioid response, as people are turning to self-medication because of all of the issues that come along with the pandemic," she said. "That included our syringe exchange program — the only one in the county. Last year we took almost a quarter of a million syringes off the street and out of our communities."
The rampant drug use also resulted in a need for Narcan, the overdose reversing drug, which PPF also distributed throughout the south and north county. "We make it available to folks and we teach them how to use it," Flickinger said. "Over the first 12-month period of the pandemic, we saw 249 reported reversals through our program alone. So, we know we're saving lives."
Those efforts required redistribution of PPF's personnel, Flickinger said, noting that fundraising, operations, and development staff were out on the front lines distributing Narcan and doing needle exchanges to meet the increased need.
PPF also stepped up its counseling services as the community cried out for help during the peak of the COVID crisis, reflecting the fact that while Pacific Pride Foundation's support services for the LGBTQ+ community have always been critical, the pandemic increased the urgency to offer such services as peer support, mentorship and counseling. Indeed, one study showed that 74% of LGBTQ+ people say that stress from the pandemic has had a negative impact on their mental health compared to only 49% of those who don't identify as LGBTQ+, with increased stigma and discrimination related to sexual orientation/gender identity among the reasons.
"So, we're continuing to expand our counseling program to help combat the worse outcomes for people in the community, where the impact has been nothing short of staggering," Flickinger said. "Over the next 12 to 15 months, we're planning to double the programs, double the number of people we're serving, and also double the number of clinicians we're training. So not only are we serving people with mental health needs, but we're also training the next generation of mental health care professionals to be culturally competent and provide LGBTQ+ specific and HIV-impacted services."
All that takes money, of course. So, naturally, PPF has also adjusted its own fundraising efforts in light of lessons learned in the pandemic, including its ongoing Partners in Pride program which just this week wound up a matching grant campaign. The program encompasses supporters who sign up as major donors to the tune of $2,500 or more per month or as little as $10, the monthly source of funding helping to protect against uncertainty, safeguard programs, and ensure consistent provision of services.
"All are welcome. It doesn't matter at what level," Development Director Tyson Halseth said. "Everyone has a role to play."
For example, $25 per month helps to provide six months of support for one youngster in the Proud Youth program, while $50 might remove more than 7,000 used syringes from the community.
"Partners in Pride has been around for a while, but it wasn't an area that we've ever put a lot of focus and emphasis on," explained Jackie VanLingen, PPF's development and events program manager. "Through the pandemic, we've learned how we need to sustain the organization a little bit better, preparing for whatever tomorrow brings. So, we've put some steam and power behind it because it can help us budget better when we know how much income is coming in every year."
The community support makes a huge difference to Pride, which has been around for nearly half a century.
"Being a Partner in Pride means being part of a community that is dedicated to ensuring a vibrant, thriving, and visible LGBTQ+ community," Flickinger said. "It's our community that has gotten us to where we are now, and we want to make sure that our community takes us the next 45 years."
Visit Pacific Pride Foundation at www.pacificpridefoundation.org. Call Kristin Flickinger (805) 963-3636 x109 or Tyson Halseth at (805) 963-3636 x110.
Mission
Pacific Pride Foundation proudly provides services to the HIV/AIDS and LGBTQ+ communities of Santa Barbara County. All of our programs are free or low-cost at our locations in Santa Barbara and Santa Maria.
Begin to Build a Relationship
We know you care about where your money goes and how it is used. Connect with this organization's leadership in order to begin to build this important relationship. Your email will be sent directly to this organization's Director of Development and/or Executive Director.
Fostering Pride in Us All
"We at the Zegar Family Foundation are proud funders of Pacific Pride, not just for the much needed services provided to the LGBTQ community but for fostering Pride and Inclusivity for us all!"
Partners in Pride
For 45 years, Pacific Pride Foundation has been committed to ensuring a thriving, vibrant, and visible LGBTQ+ community in the Santa Barbara area. With the help of annual donors or "Partners in Pride," PPF continues to provide critical services to individuals, through counseling, community education, and innovative programs for youth and seniors, as well as those who are impacted by HIV and Hep-C. Become a Partner in Pride today and you can also help to sustain PPF's social programs such as the Pacific Pride Festival, and special events like the Royal Ball. Your strong commitment will ensure the continued success of a trusted community organization for decades to come.
Board of Directors
Lynn Brown, Chair, Pronouns: she/her
Ralph Barbosa, Vice Chair, Pronouns: he/him
Tyson Halseth, Secretary, Pronouns: he/him
Stephen Coyne, Pronouns: he/him
Marc Gelinas, Pronouns: he/him
Solomon Ndung'u, Pronouns: he/him
Seth Taylor, Pronouns: he/him
Georgene Vairo, Pronouns: she/her
Mary Ziegler, Pronouns: she/her