Alzheimer's Association: Providing Care, Support, and Research for Patients and Caregivers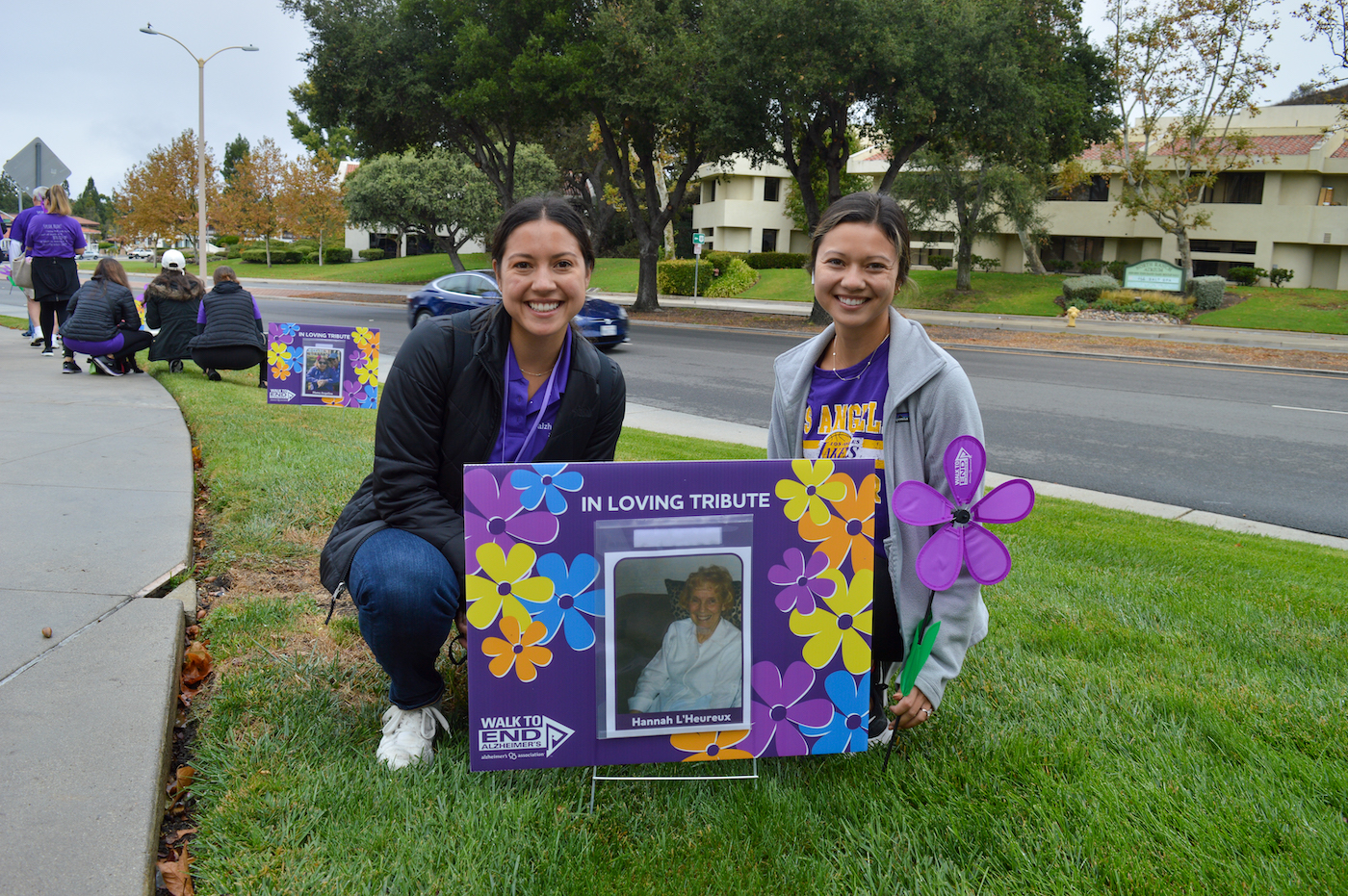 The statistics on Alzheimer's Disease are staggering.
Someone in the United States develops the devastating disease every 65 seconds. More than one in nine people (11.3%) age 65 and older has Alzheimer's, and the percentage increases with age, with nearly 35% of those over age 84 suffering from the form of dementia. And Alzheimer's disease is only becoming more common as the general population gets older and lives longer, with Alzheimer's now logging in as the third leading cause of death in California after heart disease and cancer.
"It's just a huge crisis, ultimately a global crisis," said Lindsey Leonard, the Executive Director of the California Central Coast chapter of the Alzheimer's Association. "The numbers are only projected to skyrocket, year after year."
So, it's pretty safe to say that just about all of us have had relatives or other loved ones who have been affected by Alzheimer's.
That includes Janelle Boesch, the chapter's Communications Manager, whose paternal grandmother passed away from the disease when Boesch was in seventh grade.
"I always had very fond memories of her growing up," Boesch said. "She was a very sweet, happy lady. And even after I learned she had Alzheimer's, and she didn't recognize me or my siblings, she was always still very happy to see us. But we didn't see her too often in the later stages because she was living in a facility in Idaho."
Boesch said she was grateful to still have some naïvete about the disease while she was younger.
"But now I have conversations about what happened with my dad and we both end up crying when I think about what he had to go through and learn more about his perspective of seeing his mom go through the terrible disease," Boesch said. "It's heartbreaking and now, serving in this position and speaking to all these families who are going through similar things, it's still heartbreaking but it also feels good to be doing something about it, to be part of the solution. I do it all in honor of my grandma."
That includes both her job and participating in volunteer activities like the running challenge Boesch took on last year that had her doing a 5K every day for a month, running a total of 100 miles, with friends and others donating prescribed amounts for every mile to the Alzheimer's Association.
The association is the leading voluntary health organization in Alzheimer's care, support, and research, with the California Central Coast Chapter serving about 3,000 individuals every year encompassing everything from education to support groups to funding research into a possible cure.
The national nonprofit helps fund more than 700 research projects that are currently searching for a cure as well as treatments, and it also runs a 24-hour-per-day helpline (800-272-3900) that is staffed by master's-level clinicians and specialists to provide confidential support and information to patients and caregivers and families in more than 200 languages; nearly 1,000 individuals on the Central Coast called in last year.
"It's great for any of our local families to reach out at any time of the day or night to find resources or talk about the challenges they're facing and receive some support," said Leonard.
The association also has a wealth of resources from tools to empower those living with the disease to caregiving tips, a virtual library, and much more. Here on the local level, there are a number of support groups to cover everything from concerns about diagnosis to early onset to coping skills and, sadly, help with bereavement.
"They serve as an opportunity to connect with others and to prevent that sense of isolation and feeling alone in the journey," Leonard said. "Our goal is to ensure that everybody that needs our services is aware of us and able to access us."
Of course, that takes resources to accomplish, which is why fundraising is an important aspect for the local association chapter. But there are dozens of ways to help beyond large cash donations, including single gifts or small monthly offerings.
"It's heartbreaking and now, serving in this position and speaking to all these families who are going through similar things, it's still heartbreaking but it also feels good to be doing something about it, to be part of the solution."
— Janelle Boesch
"Every amount is valuable to making a difference in the life of our families and their caregivers," Leonard said.
There's also participating, as Boesch did, in a self-generated fundraiser, which can be anything from a bake sale to a large-scale extravaganza anyone might cook up.
Doing them all at the same time has become a signature event for the Alzheimer's Association in what's called "The Longest Day," when people across the area and around the world fight the darkness of Alzheimer's disease through a fundraising activity of their choice. It takes place on June 21 every year.
"These types of fundraisers are so great because it really meets another huge goal of just raising awareness," Boesch said. "Every new person, and every volunteer, helps to destigmatize Alzheimer's and dementia by just talking about it. The more that people talk about it and raise awareness about what we are and what we do, the more people we can help. We just want to get our name out there and let everybody know about our resources."
The Alzheimer's Association California Central Coast Chapter is located at 1528 Chapala St., Suite 204.
411
Website: www.alz.org/cacentral
Contact: Lindsey Leonard, executive director, (805) 892-4259
www.alz.org/cacentral
(805) 892-4259
Executive Director, California Central Coast Chapter: Lindsey Leonard
Begin to Build a Relationship
We know you care about where your money goes and how it is used. Connect with this organization's leadership in order to begin to build this important relationship. Your email will be sent directly to this organization's director of development and/or Executive Director.
Alzheimer's disease is tragic and irreversible and has become a national crisis and global epidemic. Having witnessed the enormous emotional, medical, and financial challenges it has created for friends and family caring for their loved ones with dementia has caused me to be a part of finding a solution. Through my support at the Alzheimer's Association, I feel connected to many in our community that are experiencing this tragic diagnosis. I want to be with them in finding a treatment and one day: A CURE!
Support the Fight Against Alzheimer's
The Alzheimer's Association leads the way to end Alzheimer's and all other dementia — by accelerating global research, driving risk reduction and early detection, and maximizing quality care and support. The California Central Coast Chapter is seeking the support of its community to help make a difference in our mission to end Alzheimer's and all other dementia. Your support is critical in allowing our chapter to continue providing free educational programs, support services and care consultations throughout our tri-county region, while also supporting critical research toward a cure. Get Involved: To make a donation, become an event sponsor, participate in one of our fundraisers such as The Walk to End Alzheimer's® or The Longest Day®, or learn more about volunteer opportunities, visit our website at alz.org/cacentral. For around-the-clock support and information, the Alzheimer's Association 24/7 Helpline (800.272.3900) is available to people living with dementia, caregivers, families and the public.
Walk to End Alzheimer's
Organized every year in more than 600 communities across America, the Walk to End Alzheimer's is the world's biggest event to attract attention and funds for Alzheimer's research, care, and support. In the Central Coast – which includes Santa Barbara, Ventura, Santa Maria, and San Luis Obispo – the Alzheimer's Association has a goal of raising $750,000 in 2021 and hopes to increase its fundraising to $787,500 in 2022.
Key Supporters
Katina Zaninovich, Board Chair
Lynne Andujar
Leigh Cashman
John Dixon
Richard Beswick, PhD
Richard Mann
Peter Delevett
Kenneth Kosik, MD
Charlie Zimmer
Robert Hirsch
Danna McGrew
Lol Sorensen