Casa Del Herrero News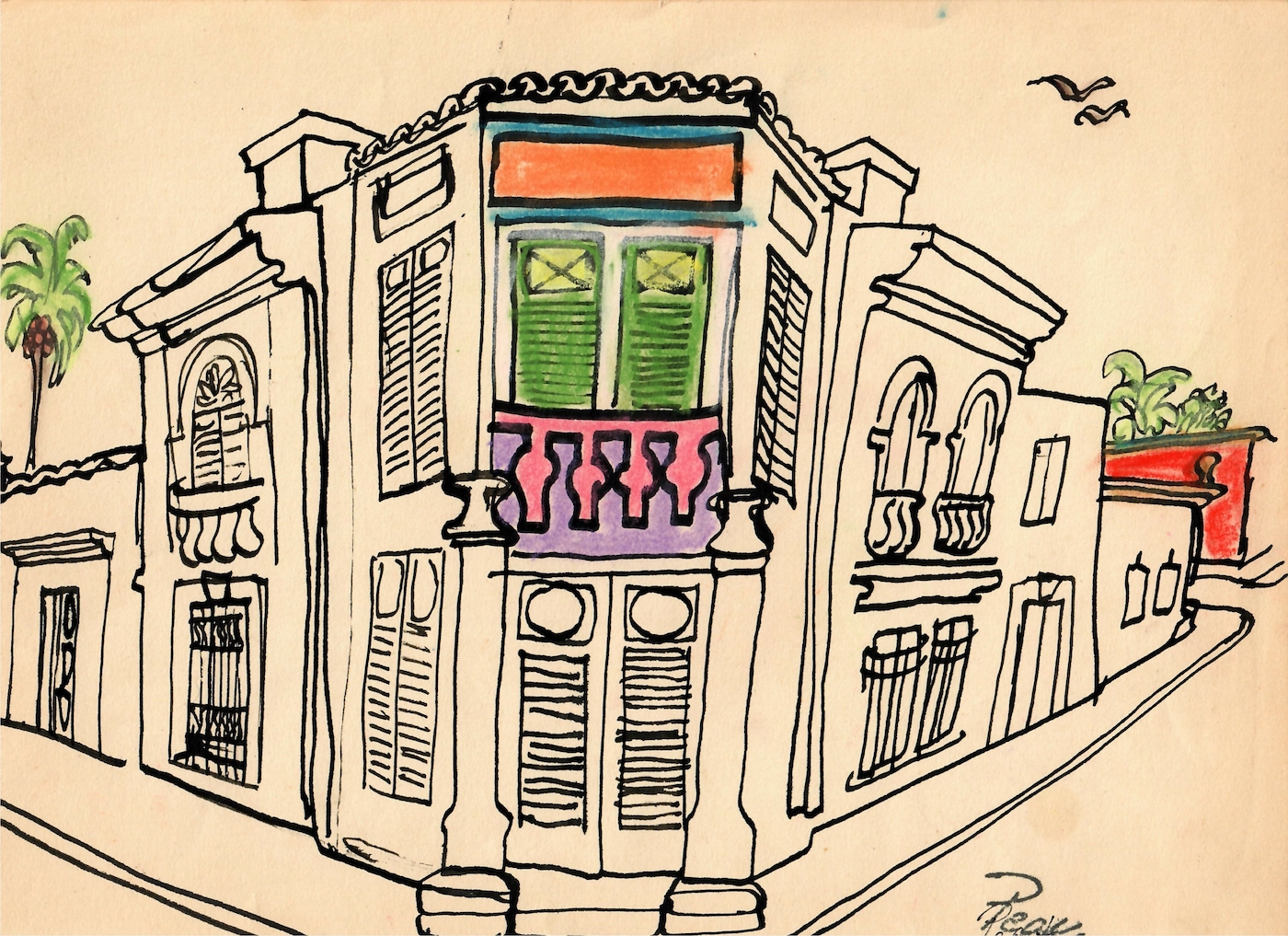 Casa del Herrero – Montecito's National Historic Landmark – announced last week that an art exhibition at the property, Channing Peake – To Mexico and Beyond, has been extended to Saturday, April 30, 2022. This vibrant exhibition, in collaboration with the Channing Peake Estate, is comprised of several working drawings made by Peake during his many travels to Mexico throughout his life.
Channing Peake (1910 – 1989) was a preeminent California artist, draftsman, painter, and muralist. Though Peake traveled throughout the American Southwest and Mexico, it was his time as an apprentice at Casa del Herrero (from 1933 – 1934) that provided a solid foundation for his artistic career. "Casa del Herrero afforded Channing the opportunity to go to Mexico for the first time, providing a connection to the country that lasted a lifetime," said Channing Peake's widow Cheri Peake.
According to Casa del Herrero reps, Peake's artistic signature can be seen throughout the interior of the historic George Washington Smith house, including in the ceiling panels in the front and first-floor powder room, a stereo niche in the living room, the frieze in the book tower, and in owner George Steedman's workshop office, as well as charming caricatures of Steedman family members in the south loggia, to name a few. Peake's work at Casa del Herrero demonstrates the creative partnership with owners George and Carrie Steedman, as well as with their architect.
Peake traveled to Mexico throughout his life, visiting various regions and documenting daily life. To Mexico and Beyond follows Peake's trajectory from Casa del Herrero to Mexico, the drawings he produced at this time, and the subsequent mural work he completed upon his return to Santa Barbara. Peake frequently returned over the years, often visiting with his friend and distinguished artist Rufino Tamayo. Peake had also worked with Diego Rivera and was recognized locally through the establishment of the Channing Peake Gallery on the first floor of the Santa Barbara County administration building. The drawings in this exhibition, several of which are on view for the first time, were produced throughout the 1930s and into the 1980s. With street scenes and images of daily life, the drawings document Peake's travels while revealing his deep appreciation for the people and cultures of Mexico.
The exhibition can be viewed during docent-led house and garden tours on Wednesdays and Saturdays at 10 am and 2 pm. Tours can be booked at casadel herrero.com/tours or by calling (805) 565-5653. Casa del Herrero members can view the exhibition during member-only viewings.
For reservations, email robles@casadelherrero.com. The majority of the exhibition pieces can be purchased with 50% of the proceeds given to support Casa del Herrero. To view and purchase artwork visit charityauction.bid/ToMexicoAndBeyond.
Donate now!
casadelherrero.com
(805) 565-5653
Executive Director: Jessica Tade, PhD
Begin to Build a Relationship
We know you care about where your money goes and how it is used. Connect with this organization's leadership in order to begin to build this important relationship. Your email will be sent directly to this organization's director of development and/or Executive Director.
For me, Casa del Herrero is a 'family affair.' My mother-in-law, Joan, introduced me to the Casa soon after we moved to Santa Barbara in 1995. She was friends with the Steedman family and worked with several generous individuals to convert the fabulous estate into a museum for the public to enjoy," said longtime supporter and former Board President Susan Jackson. "I remain captivated by the Spanish Revival architecture and admire owner George Fox Steedman's attention to detail, and all that he created in his amazing workshop. My other favorite part of being involved is the friendships with the dedicated group of people who serve there. It is rewarding to support a living museum that brings inspiration to many people.
The Casa Collaborates
Collaboration is a key component of the Casa's work. From nonprofit partnerships to local youth and school group visits, the community is able to engage with the preservation and creative aspects of the estate through educational and artistic activities. The Garden Club of Santa Barbara is a frequent partner in the preservation of the Casa's beautiful garden spaces. Additionally, the Casa has a continued relationship with the Foodbank of Santa Barbara County's Backyard Bounty program, welcoming volunteers to harvest fruit to be given to those most in need throughout the county.
Casa del Herrero relies on various annual fundraising avenues including a February membership drive, the Feria Andalusia art show and garden fair, and Christmas at the Casa, a special event with the George Washington Smith house decorated in holiday finery. As Santa Barbara remains resilient after tragedy including devastating fires, mudslides and now the pandemic, Tade is keenly aware that the future of the estate resides in connecting and collaborating with other community institutions. "As they say, 'a rising tide carries all boats,'" she says. "Collaborating with other community nonprofits, volunteers, and the Casa's family of donors, continues the positive trajectory of our mission while allowing our good work to soar."
Board of Trustees
Casa del Herrero board members are engaged volunteers who provide leadership in stewarding the historic house museum and gardens. Through their combined experience and enthusiasm, the board works to preserve the Casa's history in service to the local community.
Karen Jones Clark
President
Robert E. Williams
Vice President
Christopher C. Hardy, CPA
Treasurer
Heather Biles
Secretary
Board Members:
Chris Blau
John P. Duffy
Marc Normand Gelinas
Albert P. Hinckley, Jr.
Emily Jones
Jennifer Kelly
Mari McAlister
Janet McCann
Elizabeth Storm McGovern
Fran Morrow, PhD
Annalisa Hinckley Savin
Meghan Stoll
Katherine Pharibe Wise
George S. Bass
Founding Trustee