Bringing Joy, Engagement, and Connection – Through Music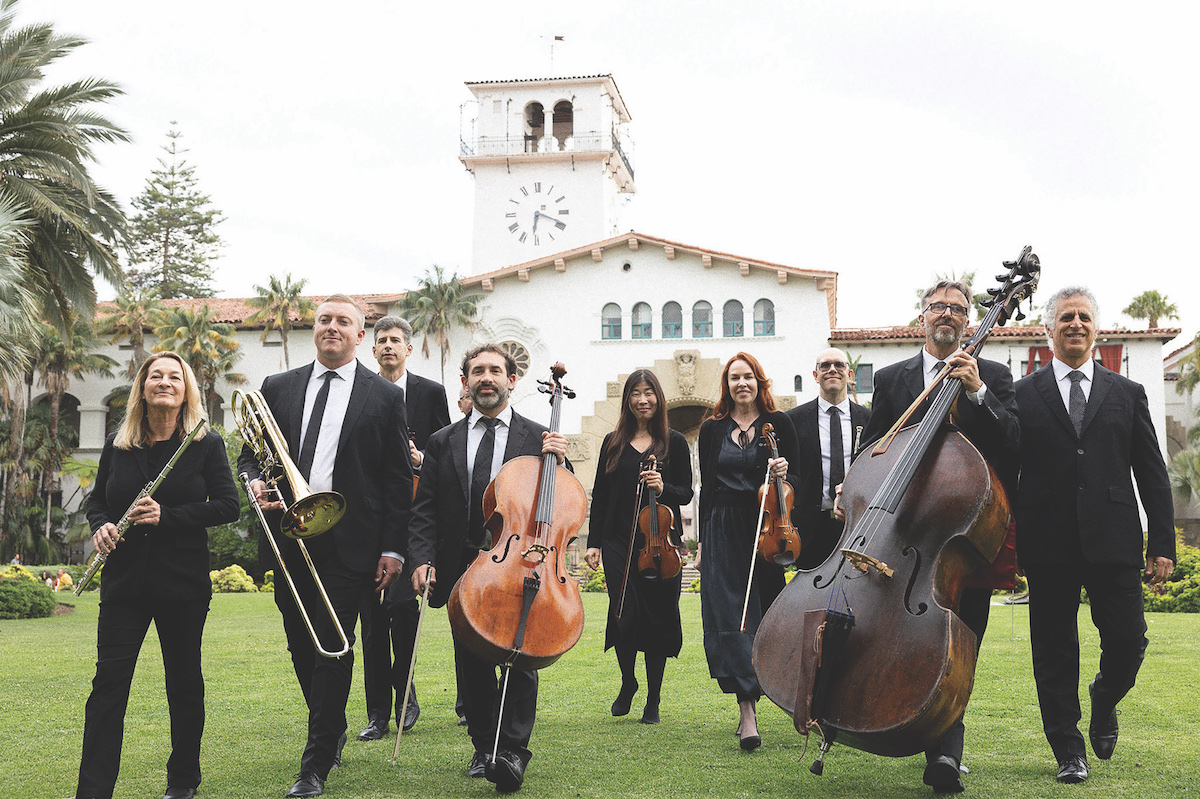 Music is the soundtrack of our lives. From the morning radio alarm, to the headphones fueling your run, to your favorite film, cartoons, and commercials, music—symphonic music—is everywhere.
The Santa Barbara Symphony shares the power of symphonic music with the local community and beyond. Conductor and Music & Artistic Director Nir Kabaretti has been with The Symphony since 2006 and regularly collaborates as guest conductor with some of the world's most renowned orchestras and opera companies. This year, Kabaretti leads The Symphony in its 70th anniversary season.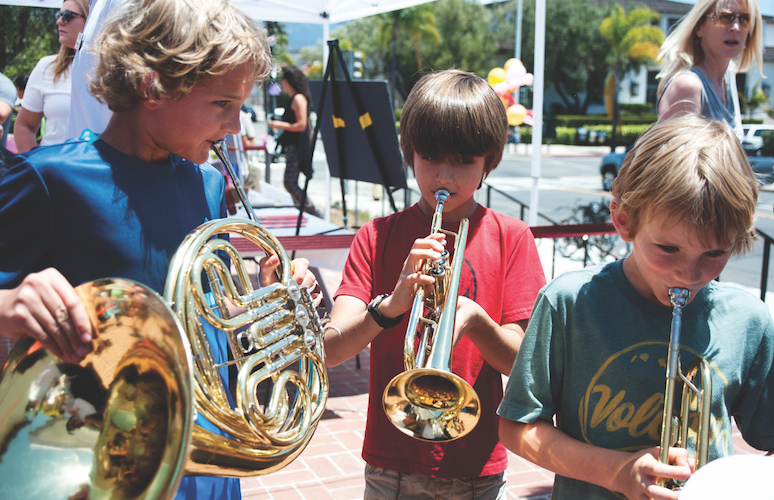 Symphony President and CEO Kathryn R Martin indicates that this October to June season offers seven Saturday evening and Sunday afternoon concerts. Showcasing global guest artists, our own accomplished musicians, and Santa Barbara professional arts and nonprofit collaborations, these concerts feature diverse themes—with local connections—such as Wisdom of the Water, Earth, Sky; Planes, Trains, and Violins; and John Williams: A Cinematic Celebration. In addition, two one-night-only concerts are planned: New Year's Eve with The Symphony and An Evening with Sinatra on June 15. According to Martin, the diversity of music is an important aspect of The Symphony.
"Nir's programming is expansive and tailored for our community," Martin says. "With influence from other musical genres and the talent connected to Santa Barbara, we—as a 'local' symphony orchestra—are able to create unique programs that are just not possible for others in our field to do."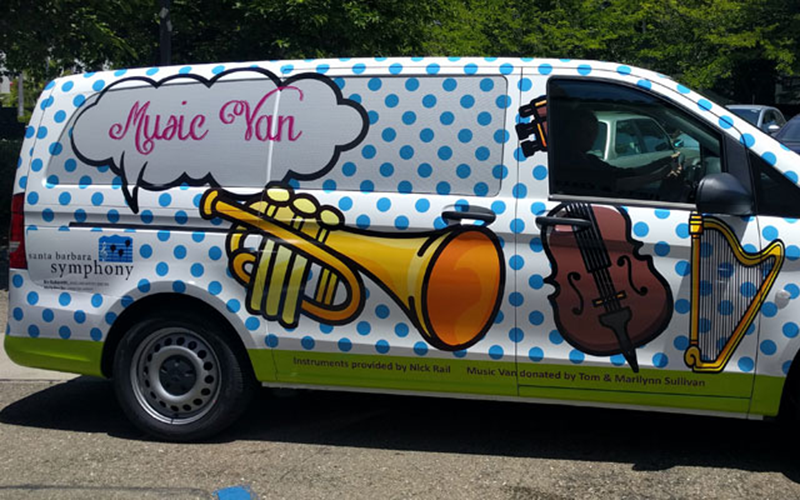 Besides delivering world-class performances, The Symphony's mission aims to inspire a passion for music in the next generation. The Symphony's Youth Ensembles, serving elementary through high school, and wide-ranging youth education programs help to fulfill that mission. These are the only regional programs connecting students directly to a professional symphony orchestra. Needs-based scholarships funded each year through donations to The Symphony are one way students benefit from this connection.
According to Dr. Nick Fuentes, Vice President of Community Education & Enrichment, the Music Van, a mobile music education classroom for area third-grade classrooms, is one of the more unique Music Education programs that The Symphony offers.
"The van is replete with instruments typically played by a symphony," explains Fuentes. "The kids tactilely interact with the instruments and discover how they're played. For many children, the Music Van experience is their first introduction to music and often inspires them to continue their musical journey."
"We are very lucky to serve a community that sees art as important and understands that having a professional symphony orchestra adds a lot to the quality of the community," notes Music & Artistic Director Nir Kabaretti.
Donate now!
www.TheSymphony.org
(805) 898-8785
Development Manager: Juli Askew
Attendance and Support
Celebrating its 70th Anniversary, the Santa Barbara Symphony delivers artistic excellence through inspiring performances, outstanding music education programming and stewardship, and community collaboration, a pillar of The Symphony on- and off -stage.
"We benefit by having both high caliber, professional arts organizations and visionary supporters in this community who help us bring projects to fruition that would not be possible for one organization alone," emphasizes Symphony President & CEO Kathryn R Martin.
Located between the major metropolitan areas of Los Angeles and San Francisco, the Santa Barbara Symphony competes vigorously for funding. Even with sold-out performances, ticket sales cover less than 30% of the total operating budget. This is why The Symphony relies heavily on community donations.
Whether performing live onstage or inspiring youth through music education programs, the Santa Barbara Symphony unites the community through the common language of music. Donations can be made online, by phone, by mail, or through donations of stock.
Begin to Build a Relationship
We know you care about where your money goes and how it is used. Connect with this organization's leadership in order to begin to build this important relationship. Your email will be sent directly to this organization's director of development and/or Executive Director.
Our family has a deep appreciation for the enormously positive impact the Symphony's Music Van, Concerts for Young People, and especially the Youth Symphony have had on my wife and me when we were members many years ago, and on our three children, who continue to play viola, cello, and bass, even as adults now. That is why we have included a bequest for the Symphony in our estate plans, to help secure the future of the Symphony and the education programs that have so enriched our own family.
Mission
The mission of the Santa Barbara Symphony is to enrich the lives of Santa Barbara residents by producing and presenting the highest quality musical experiences performed with artistic excellence, which is accessible to the entire community; and to inspire a passion for symphonic music in the next generation of audience members, musicians and funders.
Key Supporters
Officers:
Janet Garufis, Chair of the Board
Christopher D. Harris, Treasurer
Michelle Richardson, Secretary
Dan Burnham, Chair of Governance
Kathryn R. Martin, President & CEO, Ex-Officio
Nir Kabaretti, Music and Artistic Director, Ex-Officio
Directors:
Todd Aldrich
Mashey Bernstein
Sarah Schlinger Chrisman
Stephen W. Erickson
Dr. Don Gilman
Nancy McAleer Golden
Sam Hedgpeth III
Palmer Jackson, Jr.
Rachel Kagano. Stern
Simon Knight
George Konstantinow
Isabelle Meyer Stapf
Anne Sage
Howard Jay Smith
Dr. Robert Weinman
Bethany Mennemeyer,
Orchestra Committee Chair, Musician Liaison