Reversing the Threat of the Climate Crisis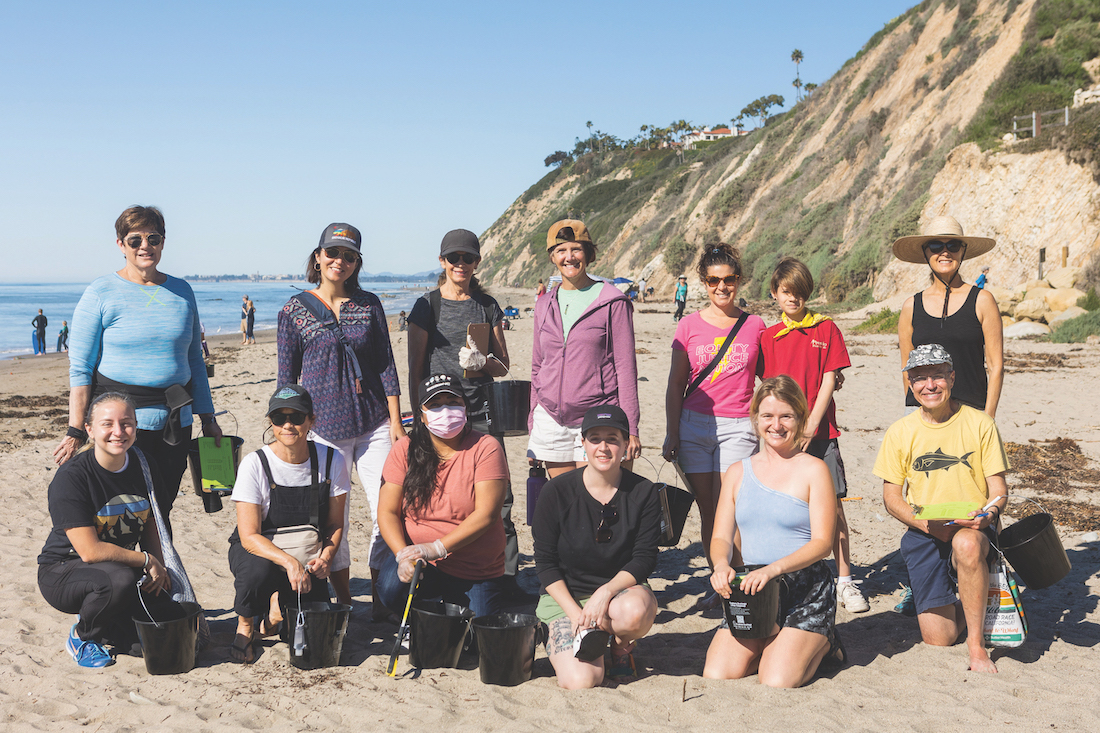 Our climate is in crisis. Record-setting heat waves. Larger and more destructive wildfires. An historic megadrought, hotter and drier than anything we've seen in nearly 1,000 years.
Santa Barbara's Community Environmental Council (CEC) has long seen this coming and began organizing years ago. Now, the CEC is implementing a vision for the future of Central California and has developed an ambitious plan to combat the crisis, which they've broken down into three key components.
Reverse: Pushing for ambitious, zero carbon emissions and ensuring that the Central Coast has the tools to reach them.
Repair: Tapping the power of regenerative agriculture and nature-based solutions to remove excess carbon from the atmosphere.
Protect: Deploying bold community-led actions to protect vulnerable populations facing drastic climate change.
"Since the beginning of 2021, we have been working to implement a very ambitious strategic plan around climate change," says Sigrid Wright, CEC's CEO. "It calls for us to double down and do twice as much twice as fast."
Because our region has a vital agricultural economy, a key component of CEC's vision is ensuring that this important sector's major players – farms, ranches, orchards, and vineyards – are part of the effort.
"They are on the front lines of climate change and must be part of the solution," Wright explains.
Whether it's bringing the agricultural sector on board with carbon sequestering initiatives that could eliminate 100 percent of the industry's greenhouse gas emissions or helping to implement strategies to improve the soil's capacity to retain water, CEC and its Central Coast partners are making specific and measurable advances in fighting climate change.
CEC has also helped mobilize inclusive community campaigns – through partnerships in San Luis Obispo, Santa Barbara, and Ventura counties – to rapidly replace destructive fossil fuels with renewable green technologies that resist extreme heat, wildfires, and other natural disasters. Additionally, CEC is the only nonprofit on the Central Coast partnering with the University of California's Climate Stewards program to deliver a 40-hour certification course to train environmental leaders from every walk of life in every community.
"Through our Climate Stewards program, and all of the strategies we are deploying, we are working to bring local practices to scale, so that the work to protect our region from climate change can have an even bigger impact," says Kathi King, Montecito resident and CEC Director of Climate Education and Leadership. "We must do everything we can to address the problem now. By working together, we can address the climate crisis with solutions that preserve our region for generations to come."
Donate now!
Mission
At CEC, building community resilience is at the center of everything we do. Our advocacy and programs seek to address root causes of climate change.

Since 1970, CEC has led the Santa Barbara region — and at times California and the nation — in creative solutions to some of the toughest environmental problems. We are often referred to as a "think-and-do tank" — deeply analyzing a problem and then applying creative, real-world solutions to it.
CEC seeks to move the Santa Barbara region away from dependence on fossil fuels in one generation – Fossil Free by '33. We are aggressively pursuing this goal by educating and activating the community around sustainable practices, advocating for environmentally-sound policies and laws, and building partnerships with other organizations to open new pathways for sustainable transportation, energy, and food systems. Our five initiatives – Drive Less, Drive Clean, Go Solar, Ditch Plastic, Rethink Food – offer accessible pathways for the community to connect with and take action on CEC's vision for a cleaner, healthier future.
Begin to Build a Relationship
We know you care about where your money goes and how it is used. Connect with this organization's leadership in order to begin to build this important relationship. Your email will be sent directly to this organization's director of development and/or Executive Director.
Clear Thinking on Climate Change
CEC helped me understand the basics and the complexities of climate change, and how to take steps in my life to make positive changes. I also gained a deeper understanding of how to strategically bring environmental sustainability into my work to help clients be successful.
Reverse, Repair, Protect. Saving the Central Coast and Our Planet
The Community Environmental Council (CEC) must raise $15 million to fund its Protect Our Climate: Reverse, Repair, Protect campaign, the nonprofit's ambitious plan to halt the climate crisis. As of late in 2022, CEC had raised $11.7 million, and all gifts will be matched by the John C. Mithun Foundation, up to $100,000. Funding will propel CEC's work in several key areas, as well as establish an 8,000-square-foot Environmental Hub on Santa Barbara's State Street – a living laboratory for people from all walks of life to design equitable climate solutions and put nature's solutions to work.
"The Hub will fill a much-needed gap for a gathering space for the social sector, and will feature the Conklin Community Room, a flexible-use conference room. It also includes a professional webinar studio, small meeting rooms, "hot desk" rentals, and use for after-hours events such as film screenings, lectures, and receptions," says Sigrid Wright, CEC's CEO. "Our intention is that people from across the region who share the mission of protecting the Central Coast can have a place to design the future together."
Key Supporters
Campaign Leadership Donors
Mary Becker
Diane Boss
James S. Bower Foundation
Sheila & Tom Cullen
Katie Davis
Emily, Dan, Casey & Willow Engel
G. A. Fowler Family Foundation
Nancy & Karl Hutterer
Karen & John Jostes
Jean Kaplan
Charles D. (Kim) Kimbell
Dorothy Largay & Wayne Rosing
John C. Mithun Foundation
Betsy & Charles Newman
Natalie Orfalea Foundation
Hutton Parker Foundation
Paul Relis
Sea Forward Fund
Judy & Jack Stapelmann
Michel Saint-Sulpice
Suzanne & John Steed
Leslie Sweem Bhutani
& Ashish Bhutani
Sally Warner-Arnett
& G. William Arnett
Elizabeth Weber
Zegar Family Foundation
Anonymous