Organic Soup Kitchen's First Annual Holiday SouperMarket and Soup Tasting Party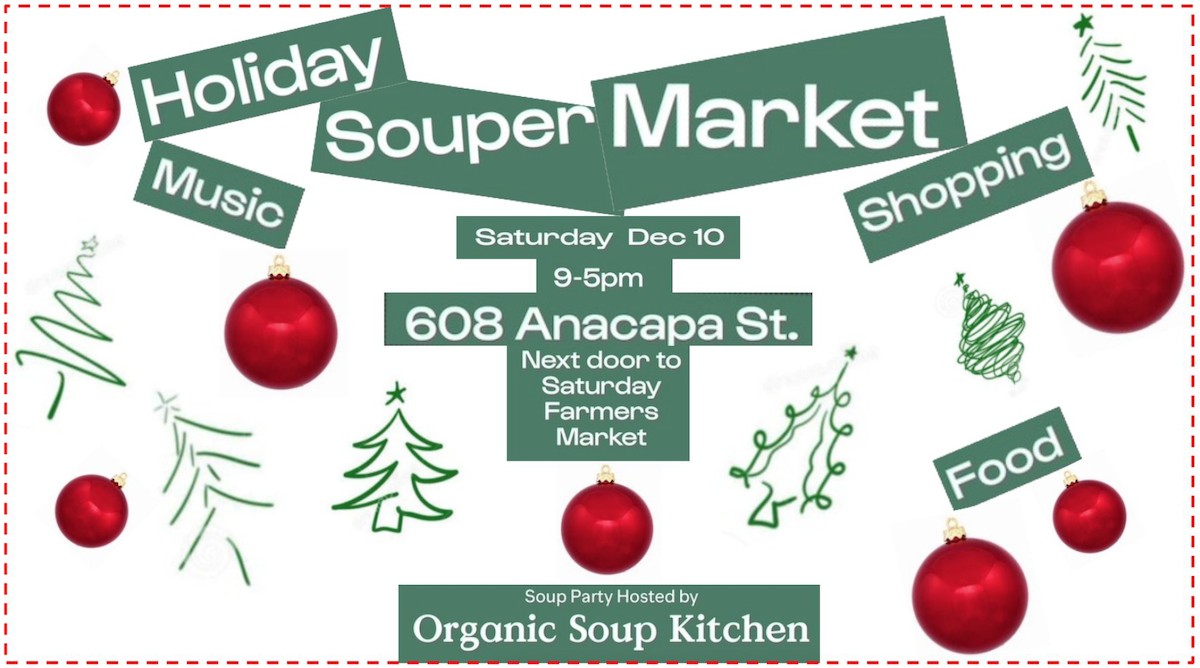 Organic Soup Kitchen is hosting its first annual Holiday SouperMarket and Soup Tasting Party on December 10th. The event will take place at 608 Anacapa Street, next to the Farmer's Market, from 9am until 5pm.This free event will feature a lively bazaar with 35 local artisans selling handmade goods and festive musical performances. Tickets can be purchased at the event for soup tasting and raffle items.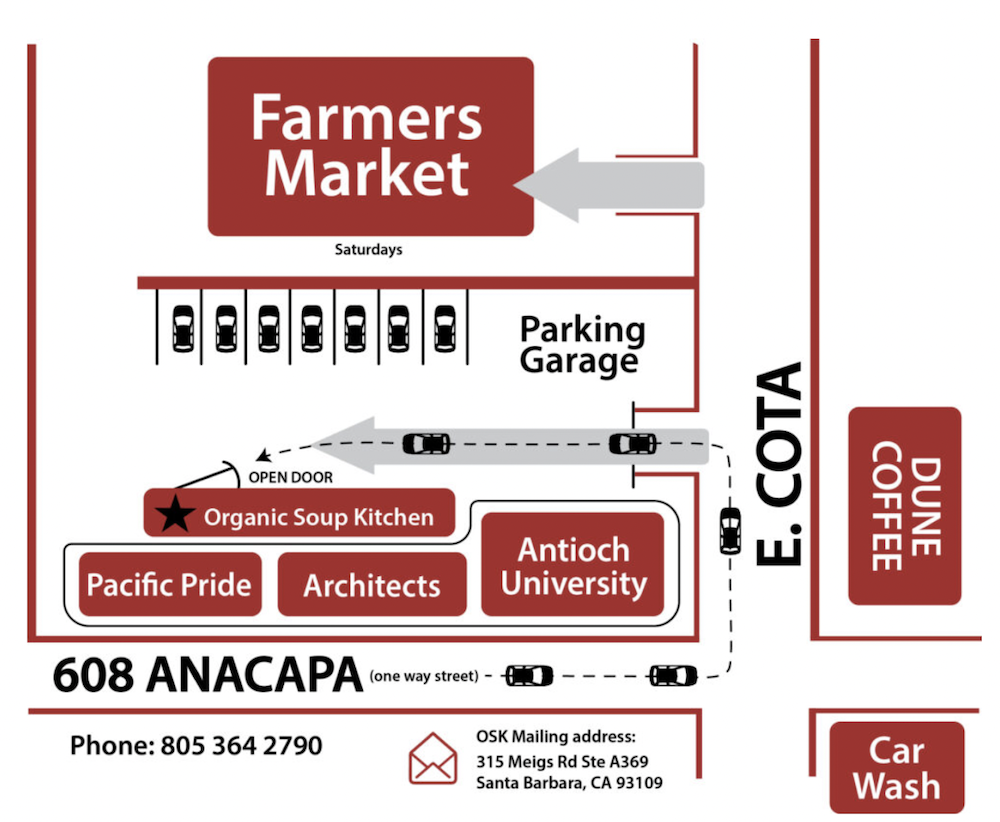 "We are excited to bring the community together during the holiday season for a joyful and festive day of shopping, music and soup tasting," says Jennifer Hyle, Development Director, at Organic Soup Kitchen. "and to shine the spotlight on some of the amazing work and talent of local artisans and crafters."
Curated by local artist, model and Organic Soup Kitchen board member, Taiana Giefer, the SouperMarket will feature artisans from throughout Southern California. The artists include Ysidro, TW Hollister, Neighbor Neighbor, Om Chanti, Megan Hooker, Roho Goods, Daniella Manini, Children of Ra, Chez Justine, Nona Botanicals – Lulus Granola, Coastal Casita, Hot Cherry Pillows, Mollusk, Riviera Bread, Lineage botanica, Origin Organs, Nick Cook, Kelli, Hello Coyote, Happy Chance, Cuyama Beverage Co, Propolis Bee Co, Chinky Botanica, Pacific Coast Pollinators, Kelly Claus, Kat Vinegrad, Stone Hart Jewelry, Beewild candles, Glass House Flora, Petal Soup Studio, Eyn Vas, Welcome Coffee Cart, Jessica Foster Confections.
An industry leader in procuring and crafting clean organic food in an environmentally conscious facility, Organic Soup Kitchen provides lifesaving nutrition and food security to cancer patients, chronically ill and low income individuals throughout Santa Barbara county. The organization has served more than 1 million bowls of soup since 2009.
For more information, visit https://www.organicsoupkitchen.org/events/
Donate now!
Mission
Organic Soup Kitchen provides oncology nutrition and addresses food insecurity to a diverse demographic of individuals struggling with the effects of cancer and chronic illnesses.
Begin to Build a Relationship
We know you care about where your money goes and how it is used. Connect with this organization's leadership in order to begin to build this important relationship. Your email will be sent directly to this organization's Director of Development and/or Executive Director.
When someone is going through chemotherapy, they need healthy and nourishing food more than anything, but most of the time they don't have the physical and mental energy to get up and do it for themselves. Organic Soup Kitchen does it for them with so much love and care! They work tirelessly in rain or shine to make sure that all their clients get their nutritious soup on time. I feel so blessed and privileged to be a small part of this gem of an organization in our community! I joined hands with them a few years back and I am happy to say that I am here to stay and support this wonderful organization in the years to come!
How Can You Help?
Monthly Givers are the heartbeat of our organization. Your monthly contribution will directly provide a month's worth of SoupMeals to community members in treatment or recovering from cancer.New Distribution Center. As demand grows, we have quickly outgrown our facility and are actively seeking the resources to expand our operation.
Key Supporters
Manitou Fund
Trust in Diversity and Exchange
Deckers OutDoor Corporation
Volentine Family Foundation
The Herbert and Gertrude Latkin Charitable Foundation
St. Francis Foundation
Community Volunteer Foundation
of UCSB
Union Bank
Natalie Orfalea Foundation
Mosher Foundation
Russell Steiner
Hutton Parker Foundation