Horse Sense: Polo Players Help People Helping People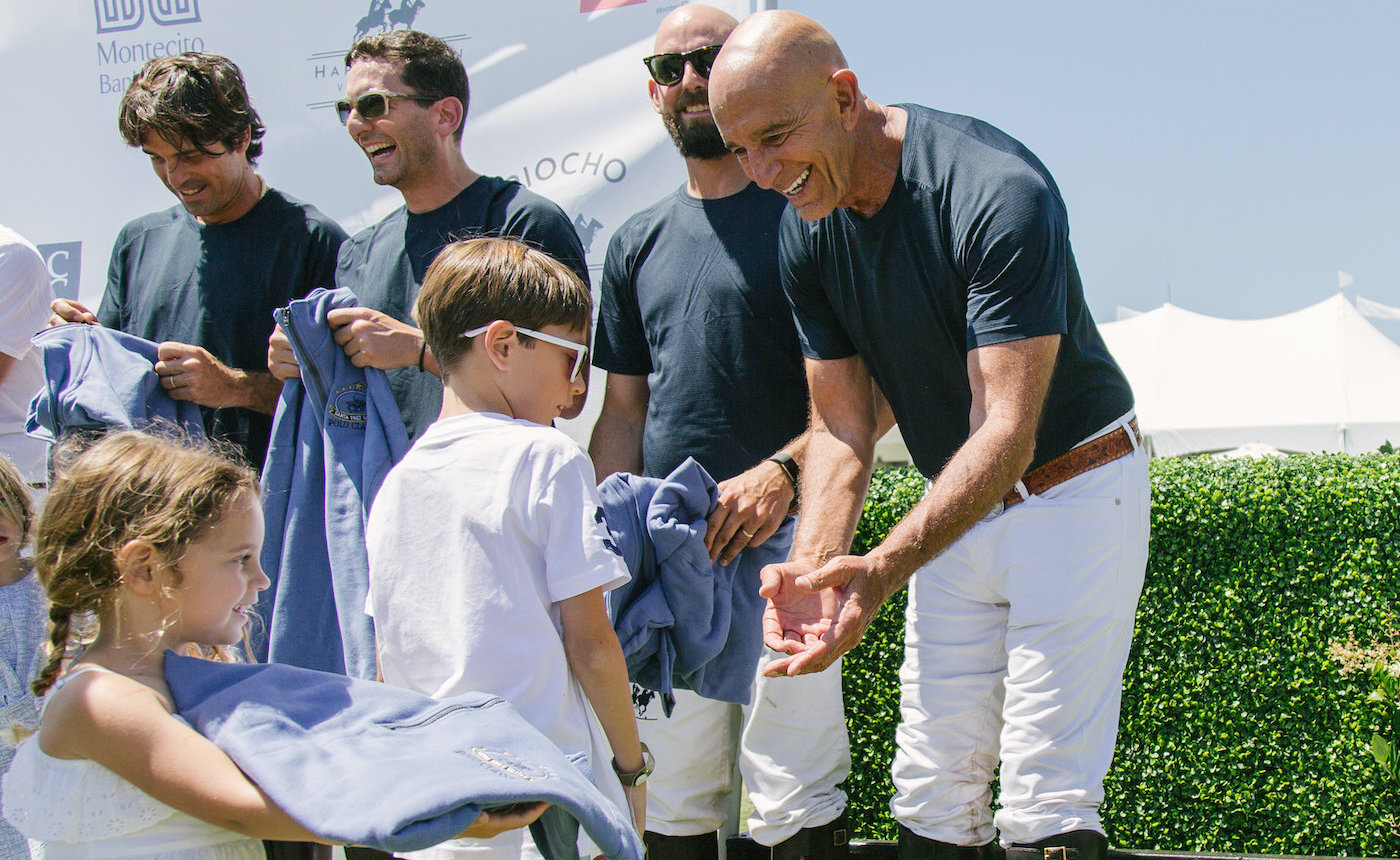 When the seemingly endless series of atmospheric river rainstorms drenched the area last month, people from Santa Barbara, Lompoc, or Santa Maria whose houses were flooded could find shelter and services at local facilities that are set up for just such emergencies. 
Not so much for residents of the Santa Ynez Valley.
"We don't have a shelter, long-term or emergency, or any of those types of safety nets here," explained Erica Jane Flores, Development Director for valley nonprofit People Helping People (PHP). "So if you live and work or go to school on Paradise Road, or in Rancho Oso or anywhere in the Valley, and were displaced by the rain, heading far outside the Valley isn't really a solution."
Thankfully, People Helping People was able to instantly step in.
"We had 16 individuals, including four children, who were evacuated or displaced and were essentially homeless as a result of the storms and flooding," Flores said. "We didn't have access to Federal or local government dollars, but we were able to put these people into hotels for extended periods of time right away. And it was 100 percent private donations that allowed us to meet that need at a moment's notice."
PHP is in its 30th year as the primary human service organization for the Santa Ynez Valley, Los Alamos, and surrounding areas, a time span that has seen the organization mushroom from its founding as a weekly food distribution program created by local community members to address food insecurity to a full-service agency with myriad programs to aid those living on the margins. While providing food continues to be one of PHP's core programs – including an expanded outdoor food pantry during the pandemic – services have expanded to include the areas of mental wellness, alcohol and drug prevention, healthcare and enrolling in health insurance, housing insecurity and homelessness, with the nonprofit having unified under one roof almost any public assistance residents of the Santa Ynez Valley might need.
That need is larger than people who only know the Santa Ynez Valley for its wineries and acclaimed restaurants might realize. Even as owners of many of those businesses are tremendous supporters of People Helping People, Flores has personally delivered groceries to cooks and waiters of those restaurants.
"We're a remote area that is heavily dependent on agriculture and tourism," she said. "The [income] gaps that you find here are great and have only become greater in recent years."
Fortunately, PHP's budget has also ballooned from $45,000 in its first year to more than $2.5 million today.
For more than a decade, a sizable portion of those dollars – and all of PHP's emergency budget, including the funds that housed those 16 people displaced by January's rainstorms – have come from the Santa Ynez Valley Polo Classic. The one-day extravaganza boasts three different polo matches – juniors, women, and a featured match starring accomplished local players and highly-rated polo veterans seen regularly during high-goal season at the Santa Barbara Polo & Racquet Club, plus a players' party, VIP luncheon, silent auction, and more.
The event was the brainchild of Joel Baker, the former coach of the U.S. Olympic polo team who lives locally in the Santa Ynez Valley.
"He's very active within the polo community, which is really philanthropic, and had a vision of how polo could become the basis for a real mutually beneficial event," Flores said. "Having a polo match would elevate and support an important cause, polo and the athletes and horses would be recognized in the philanthropic community, and all of it would elevate the Santa Ynez Valley itself as a wonderful destination."
The first was held at Baker's Circle JB Polo Ranch and was an immediate success, drawing more than 600 people. Four years later, the annual SYV Polo Classic's continued popularity necessitated a move to Piocho Ranch at Happy Canyon Vineyards in Santa Ynez, where the beauty and cache of the family ranch and vineyards continue to make the event more successful every year, drawing attendees from Montecito and Carpinteria as well as the L.A. and Bay areas.
"People love to come to this incredible event that has a backdrop of the truly beautiful valley and as a result they get to learn about and support our mission of people helping people," Flores said. "Some of them end up moving here, and they call us right up to volunteer. It really is a win-win-win."
The 2023 event is slated for June 10 and once again will feature Bakerand Meghan Gracida, the accomplished polo player who is married to top rated player Memo Gracida, who will also appear in the featured match. Multiple sponsorship opportunities are available in a variety of tiers; information is available online in a full color brochure at www.syvpoloclassic.com. VIP and Wine Club tickets, which offer an elevated experience at the event that has become a highlight of the annual calendar in Santa Ynez Valley, will go on sale soon.
But unlike a typical fancy fundraising banquet or limited seating gala, the classic is not only for the hoi polloi. General admission tickets cost only $25, and children admitted for $15.
"We try to welcome and make sure that there is a price point and experience for everybody where you get to be up close with polo and the horses," Flores said. "Whether you're an enthusiast or a first timer, it's a great day in the valley. And no matter how you participate – as a sponsor, a donor, as a GA attendee, you can feel good that you are empowering and emboldening PHP to realize our mission all year long."
Santa Ynez Valley People Helping People
Erica Jane Flores, Director of Development & Communications
(805) 686-0295
www.syvphp.org
Donate now!
www.syvphp.org
(805) 686-0295
Director of Development & Communications: Erica Jane Flores
Mission
People Helping People is dedicated to improving the lives of men, women, and children in the Santa Ynez Valley, Los Alamos, and surrounding communities by addressing emergency and basic needs, furnishing comprehensive integrated family and individual support services, and acting as a catalyst for positive community change.
Begin to Build a Relationship
We know you care about where your money goes and how it is used. Connect with this organization's leadership in order to begin to build this important relationship. Your email will be sent directly to this organization's director of development and/or Executive Director.
By bringing world-class polo to the Santa Ynez Valley, the Classic's mission is to raise much-needed funds for People Helping People's programs, which are dedicated to improving the lives of adults and children in the Santa Ynez Valley and Los Alamos by addressing emergency and basic needs. It brings all of the players and us great joy to be able to play the sport we love, on the horses we love, in front of spectators from this great valley that we love – all to benefit those who receive support from People Helping People. It is our honor to showcase polo for such a special cause.
Fighting Hunger in the Valley
Although any donation will greatly help this organization with a $2.6-million operating budget, an $800 donation will fill their outdoor pantry for one day, which provides emergency food distribution for the food insecure in the Santa Ynez community.
Key Supporters
John Kuelbs
John Easterling & Olivia Newton-John
The Gangolli Family
Scott & Lisa Ramsey
Tom & Nancy Elsaesser
The Brady Family
Becky Barieau & Bill Wathen
Kenneth Kahn & Eva Van Prooyen
Kevin Brine & Jessica Smith
Brook Harvey-Taylor & Billy Taylor
Jamie Einerson
Sean & Jodi Pitts
T.J. Barrack and Aston Barnicoat, Odyssey International Exchange
Memo & Meghan Gracida
Joe & Katie Russell
Joel Baker & Charlotte Bredahl-Baker
Montecito Bank & Trust
First Bank
Grand Avenue Real Estate, Inc
Janice Rome
Joan & Theodore Tanner
Elee Johnson & Fairfield Farm
Santa Barbara Foundation
Santa Ynez Band of
Chumash Indians Foundation
Santa Ynez Valley Foundation
The Mindel Family Foundation
The Ann Jackson
Family Foundation