Organic Soup Kitchen is Expanding

Organic Soup Kitchen announces the opening of a second location. The new downtown facility will allow the organization to meet the increasing demand for clean nutrition for low income cancer patients and chronically ill throughout Santa Barbara County.
The center will be a hub for SoupMeal clients and community collaboration, pick up, delivery and educational events. SoupMeals will continue to be handcrafted and packaged at Organic Soup Kitchen's downtown kitchen.
"People battling cancer and chronic illness need clean nutrition," says Andrea Slaby, Chief Operating Officer at Organic Soup Kitchen. "While our existing kitchen is fully equipped to meet the growing demand, we have acutely outgrown our space. We are excited to open a second location to serve additional community members."
Organic Soup Kitchen is committed to organic food for all. Through education, advocacy and programs, the agency provides nutrition and food security to cancer patients, chronically ill and low income individuals throughout Santa Barbara county. The organization has served more than 1 million bowls of nutrient dense SoupMeals since 2009.
Organic Soup Kitchen's mission is in direct alignment with the Sustainable Development Goals (SDG's) set forth by the United Nation's Environmental, Social and Governance (ESG) policy including Zero Hunger, Good Health and Wellbeing, Climate Action and Partnership for the Goals. Organizations like Organic Soup Kitchen can take impactful steps and offer creative solutions to ensure the sustainability of our people and planet.
To learn more and support the expansion of nutrition and food security in Santa Barbara County, visit www.organicsoupkitchen.org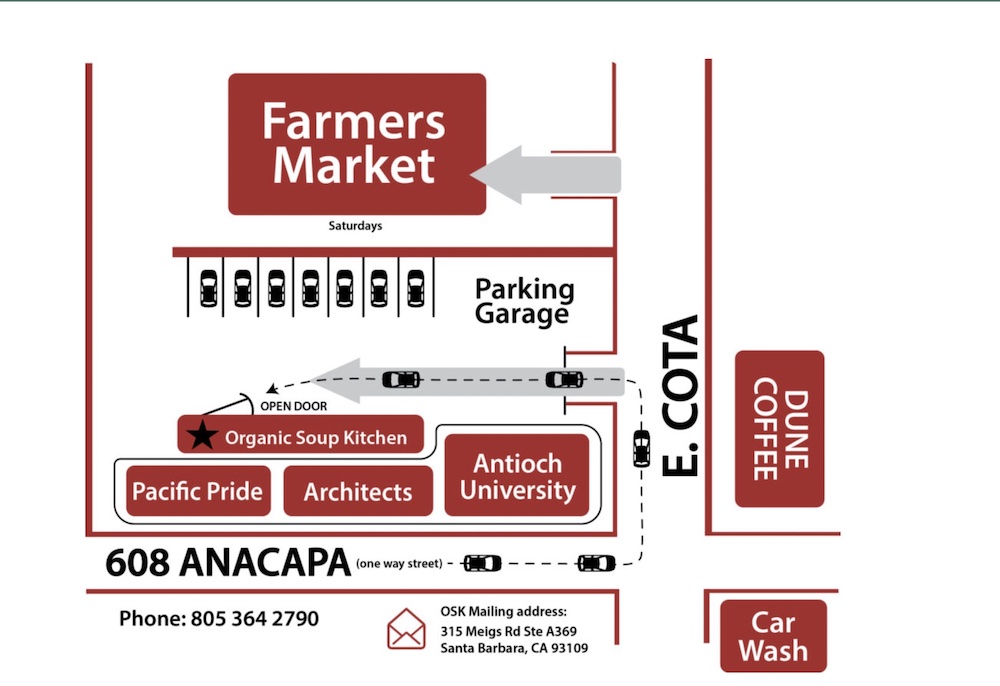 Donate now!
Mission
Organic Soup Kitchen provides oncology nutrition and addresses food insecurity to a diverse demographic of individuals struggling with the effects of cancer and chronic illnesses.
Begin to Build a Relationship
We know you care about where your money goes and how it is used. Connect with this organization's leadership in order to begin to build this important relationship. Your email will be sent directly to this organization's Director of Development and/or Executive Director.
When someone is going through chemotherapy, they need healthy and nourishing food more than anything, but most of the time they don't have the physical and mental energy to get up and do it for themselves. Organic Soup Kitchen does it for them with so much love and care! They work tirelessly in rain or shine to make sure that all their clients get their nutritious soup on time. I feel so blessed and privileged to be a small part of this gem of an organization in our community! I joined hands with them a few years back and I am happy to say that I am here to stay and support this wonderful organization in the years to come!
How Can You Help?
Monthly Givers are the heartbeat of our organization. Your monthly contribution will directly provide a month's worth of SoupMeals to community members in treatment or recovering from cancer.New Distribution Center. As demand grows, we have quickly outgrown our facility and are actively seeking the resources to expand our operation.
Key Supporters
Manitou Fund
Trust in Diversity and Exchange
Deckers OutDoor Corporation
Volentine Family Foundation
The Herbert and Gertrude Latkin Charitable Foundation
St. Francis Foundation
Community Volunteer Foundation
of UCSB
Union Bank
Natalie Orfalea Foundation
Mosher Foundation
Russell Steiner
Hutton Parker Foundation