Santa Maria Valley Youth & Family Center Celebrates 50 Years of Empowering Youth, Families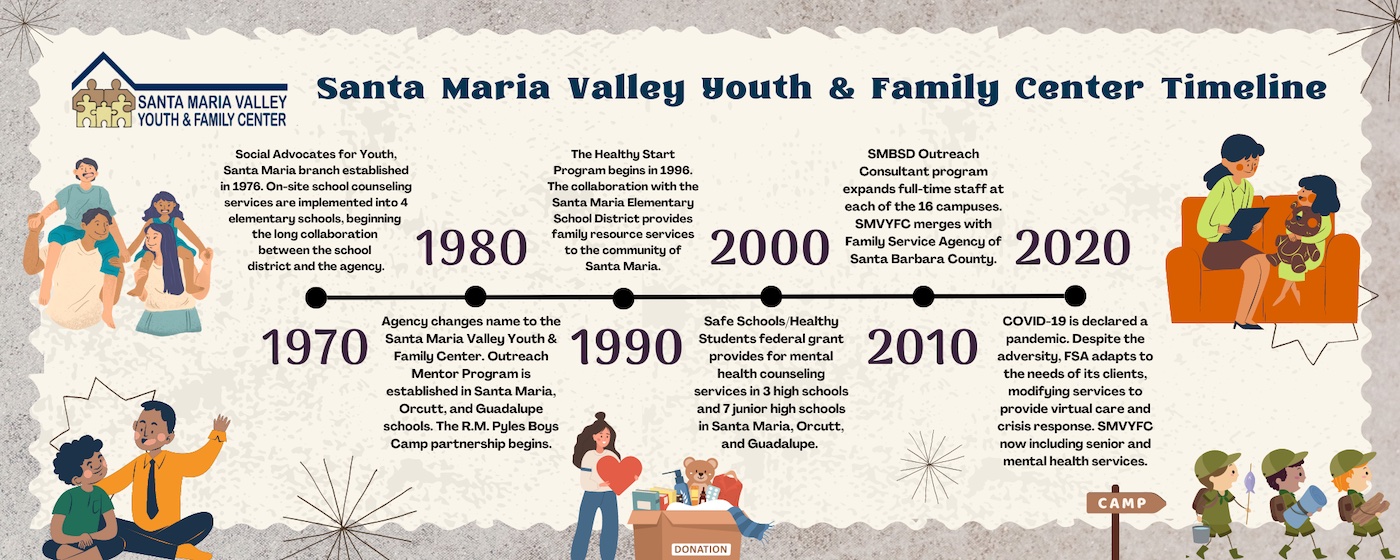 For the past 50 years, Santa Maria Valley Youth & Family Center (SMVYFC) has provided vital mental health counseling and family support services to Santa Maria youth and families—often at their most critical times of need. The Center, which merged with Family Service Agency (FSA) of Santa Barbara County in 2017, empowers families to tackle mental health challenges, poverty, and parenting issues as they take steps toward strengthening their families and achieving wellness.
"Strong families are the cornerstone of strong communities," said Brian Zimmerman, Director of Student and Family Services for the Santa Maria Bonita School District (SMBSD). "Santa Maria Valley Youth & Family Center has helped students and their families in our district for generations."
SMVYFC first opened its doors in 1973 as Social Advocates for Youth. By the end of the decade, the organization was providing on-site support for students at three elementary schools and one junior high—the beginning of a long collaboration with SMBSD. Today, more than 35 Outreach Mentors serve all 21 campuses in the SMBSD. An additional 45 family advocates and therapists provide family support services and mental health counseling throughout the Valley.
In 1980, the agency changed its name to the Santa Maria Valley Youth & Family Center (SMVYFC). In 2019, FSA and SMVYFC merged with The Little House By The Park, further expanding the access to programs. (See attached timeline for additional SMVYFC milestones.)
"Services have greatly expanded since the mergers," said Tricia Price, FSA Board Co-President. "Each entity has benefited from the expertise of the other. We're now providing more comprehensive services at each location, while still appealing to the unique characteristics of each community."
Under the leadership of Chief Executive Officer, Lisa Brabo, SMVYFC continues to provide a comprehensive continuum of affordable, accessible, and culturally competent services to over 12,000 youth and their families annually.
"It's been a pleasure to serve the Santa Maria Valley with vital family support and behavioral health programs that empower families," said Brabo. "Our staff and services have grown to meet the needs of Santa Maria, and we will continue to grow to meet the community's needs."
FSA and SMVYFC have planned a series of events throughout the year to celebrate. Check the website fsacares.org/SMVYFC for updates.
Stop by the Santa Maria Public Library in May to see a display of five decades of artifacts and pictures of the organization
Visit one of our Santa Maria offices for a free growable sunflower

SMVYFC, 101 N. Lincoln St, Santa Maria, CA
Santa Maria Family Resource Center, 648 E Enos Dr, Santa Maria, CA

Share your story of the agency on social media or email it to mmccarthy@fsacares.org
Join in a community celebration this fall at the new Machada Plaza (date to be announced)
Donate now!
www.fsacares.org
(805) 965-1001 ext. 1268
Director of Advancement: Jan Campbell
Mission
Our mission is to strengthen and advocate for families and individuals of all ages and diversities, helping to create and preserve a healthy community.
Begin to Build a Relationship
We know you care about where your money goes and how it is used. Connect with this organization's leadership in order to begin to build this important relationship. Your email will be sent directly to this organization's director of development and/or Executive Director.
Your services provided me something that I was beginning to feel was missing in my life. Being interconnected with so many other local organizations, you are providing a safety net for me. Thank you.
Help Those Most In Need
Flexible Funding helps bridge the gaps for those in need. Here's how you can help:
$100 – Buys a week's worth of groceries for a family of four.
$250 – Helps a family enroll in health insurance and access other critical services in Family Service Agency's countywide Family Resource Centers.
$500 – Provides behavioral health support for students, improving academics and school attendance.
$1,000 – Pays for three months of mental health counseling for a senior or caregiver.
Key Supporters
Marni & Michael Cooney
Carole E. MacElhenny
Gregory and Lorraine Forgatch
Liz and Adrew Butcher
Molly Carrillo-Walker & Guy Walker
Mary Harvey
Sandy & Dave Nordahl
Christine & Reece Duca
Janet Nancarrow
Chris J. Rufer
William Basiliko
Janet Garufis
Ginny & Tim Bliss
Zora & Les Charles
Jill & John C. Bishop, Jr.
Ella & Scott Brittingham
Kathy O'Leary
Jane & Fred Sweeney
Erin & Jeffrey Zuck
Sybil Rosen
Tricia & Craig Price
Chana & James Jackson