Organic Soup Kitchen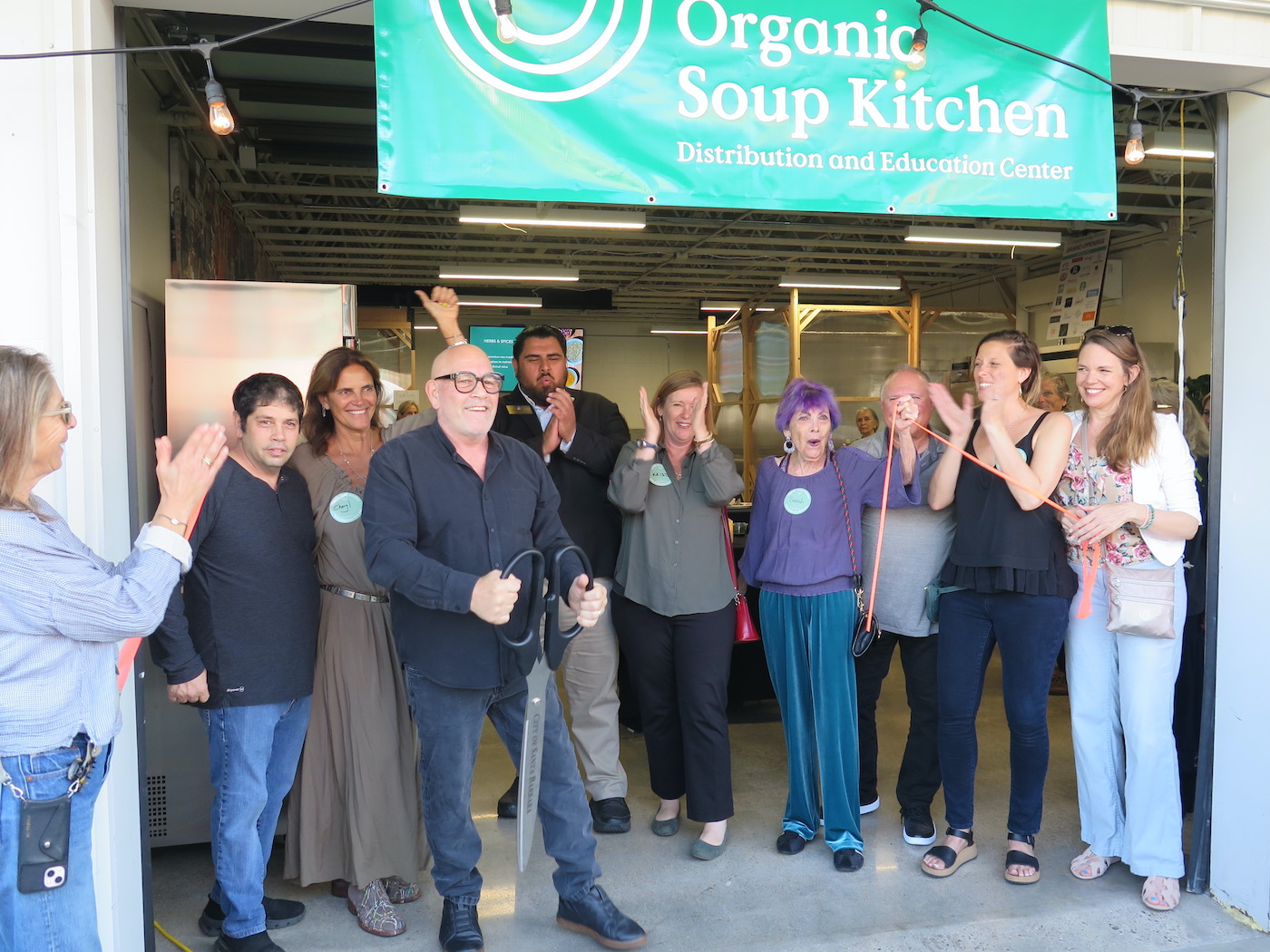 Organic Soup Kitchen (OSK) provides nutrition and food security to cancer patients, chronically ill, and low-income individuals throughout Santa Barbara County. The nonprofit organization has served more than a million bowls of nutrient-dense SoupMeals since its founding in 2009. 
It all sounds pretty straightforward and simple. After all, like Campbell's claimed in a long-running ad campaign, soup is good food. But there's a whole lot that goes into every bowl of soup created to help heal cancer-recovery and other chronically-ill patients who are the nonprofit's main clients.
OSK's hand-crafted SoupMeals are designed to strengthen the immune system, increase energy, and promote healing. The meals are created in collaboration with leading cancer specialists, with recipes formulated to lower inflammation, balance blood sugar, and improve circulation. The organization uses only clean, whole foods – no preservatives and nothing artificial ever. Each recipe contains locally harvested organic vegetables, medicinal quality herbs, and spices and healthy fats and oils – all premium ingredients people can trust to support your body and optimize healing and recovery.
People have certainly responded. Especially during the pandemic, when the normal 10 percent growth rate mushroomed exponentially.
"Demand just skyrocketed," said OSK Development Director Jennifer Hyle. "So many more people, mostly seniors who found themselves shut in and not able to get out and shop or have visitors to cook for them. Our clients grew by more than 150 percent."
Even more unexpected was the increased inquiries that came from a different direction – younger and/or healthy people who simply wanted to eat better and were asking if they could buy some soup.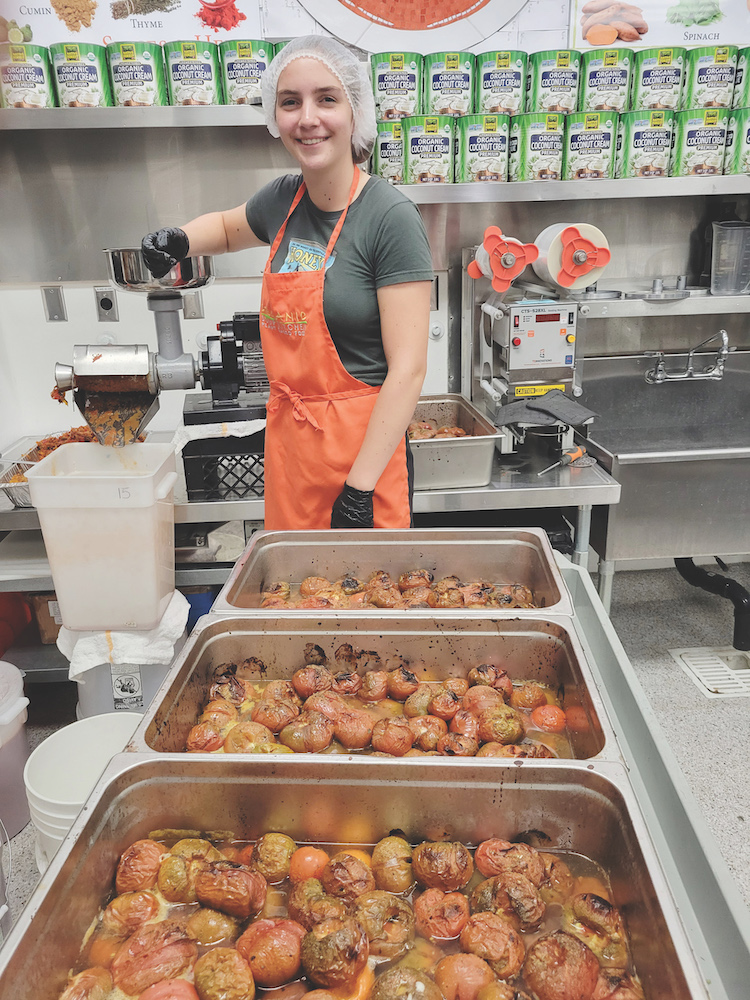 "People were discovering just how great our SoupMeals are, whether they were healthy or sick or seniors or younger, and wanted to know if they could buy them," Hyle said. "We started bringing in all of the community for our soups, which was accidental and amazing at the same time. People really love them, and they were really excited to find clean, organic food that they didn't have to cook that they knew was good for them. It grew very quickly by word of mouth."
OSK started selling soups out of the back door at the kitchen facility, which, while helping to increase income for the organization to cover its no-cost deliveries to the vast majority of its clients, was making the crowded situation even more of a challenge. Before long, that increased demand and distribution and storage situation necessitated OSK expanding as it outgrew its facility.
Just last month, Organic Soup Kitchen's new Distribution and Education Center at 126 Haley Street had its official grand opening and ribbon-cutting ceremony to celebrate the hub that will serve as the center for distribution, sales, pick up, and education, while the SoupMeals will continue to be handcrafted and packaged at the organization's kitchen facility less than two blocks away on Anacapa Street. Congressman Salud Carbajal presented OSK with a Congressional Award of Honor in recognition of OSK's success at the milestone for expanding its service and reach in the community.
"It's fantastic to have this new facility where people can come inside, and there's plenty of parking for easy access to purchasing and picking up our foods," Hyle said. "And of course, 100 percent of the proceeds from our soup sales goes back into the nonprofit. It's a double blessing for people: They feel good eating our soups and they feel good by helping others in the community who have cancer or chronic illnesses get the nutrition that they need to heal."
It's just the latest in a series of upgrades, growth, and changes at the organization within the last year or two, including upgraded equipment to increase the operation's food rescue and further reduce its carbon footprint, including the installation of a 600-pound skillet allowing Organic Soup Kitchen to steam blanch and flash freeze hundreds of pounds of local organic produce each week that would otherwise end up in the landfill. That comes close on the heels of the recent shift to 100 percent Earth-friendly recyclable packaging that will reduce the nonprofit's carbon footprint by 80 percent.
But OSK is nowhere near close to sitting back and resting on its laurels. Just earlier this week, there were discussions with the organization's intern, who is earning a master's in public health from Stanford University, about updating the SoupMeals' nutrition facts and reimagining the ingredients, Hyle said.
"We had a huge conversation about how we can reduce the potatoes in our soups because it would probably be better for people who have diabetes to have a lower glycemic ingredient. Those kinds of meetings go on behind the scenes all the time as we continually work toward ensuring that we're making the most nutritious product we can for people who are sick and people who are healthy and want to stay healthy. And we're still growing, adding recipes and considering expanding further, because we just have so many people who need nutritious food security."
Also notable is that earlier this year, Organic Soup Kitchen received the 2023 Platinum Seal of Transparency from Guidestar, the world's premier source for information on nonprofit organizations. The rating puts OSK among the top 0.1 percent of charities in receiving the highest level of recognition for full transparency regarding goals, strategies, capabilities, achievements, and metrics that show progress and impact.
The OSK story has proven so beneficial for its clients and the community that it seems a surprise that the efforts haven't been replicated in other cities and regions in the area and beyond.
"Actually, people have reached out because they would love to do something like this," said Anthony Carroccio, OSK's Co-founder and Executive Director, who dons gloves and begins stirring things up at the organization's kitchen before the crack of dawn on Monday mornings to create the latest SoupMeal concoctions to meet the needs of its clients. "But as soon as they hear how much work it is, that seems to be the end of the conversation. We are all very committed to what we're doing, and everybody here gives their all. We've been serving soup non-stop every week since we started and have made it happen consecutively for 14 years. So, it's a huge commitment."
It takes a much smaller commitment for readers to help support the organization and its mission to continue to provide metabolic oncology nutrition and food security to support the health and wellness of small-income seniors and other individuals with cancer or chronic illness. Monthly Givers are the heartbeat of the organization, as such contributions directly provide regular SoupMeals to community members in need.
Organic Soup Kitchen
(805) 364-2790
www.organicsoupkitchen.org
Donate now!
Mission
Organic Soup Kitchen provides oncology nutrition and addresses food insecurity to a diverse demographic of individuals struggling with the effects of cancer and chronic illnesses.
Begin to Build a Relationship
We know you care about where your money goes and how it is used. Connect with this organization's leadership in order to begin to build this important relationship. Your email will be sent directly to this organization's Director of Development and/or Executive Director.
When someone is going through chemotherapy, they need healthy and nourishing food more than anything, but most of the time they don't have the physical and mental energy to get up and do it for themselves. Organic Soup Kitchen does it for them with so much love and care! They work tirelessly in rain or shine to make sure that all their clients get their nutritious soup on time. I feel so blessed and privileged to be a small part of this gem of an organization in our community! I joined hands with them a few years back and I am happy to say that I am here to stay and support this wonderful organization in the years to come!
How Can You Help?
Monthly Givers are the heartbeat of our organization. Your monthly contribution will directly provide a month's worth of SoupMeals to community members in treatment or recovering from cancer.New Distribution Center. As demand grows, we have quickly outgrown our facility and are actively seeking the resources to expand our operation.
Key Supporters
Manitou Fund
Trust in Diversity and Exchange
Deckers OutDoor Corporation
Volentine Family Foundation
The Herbert and Gertrude Latkin Charitable Foundation
St. Francis Foundation
Community Volunteer Foundation
of UCSB
Union Bank
Natalie Orfalea Foundation
Mosher Foundation
Russell Steiner
Hutton Parker Foundation