Clean Coalition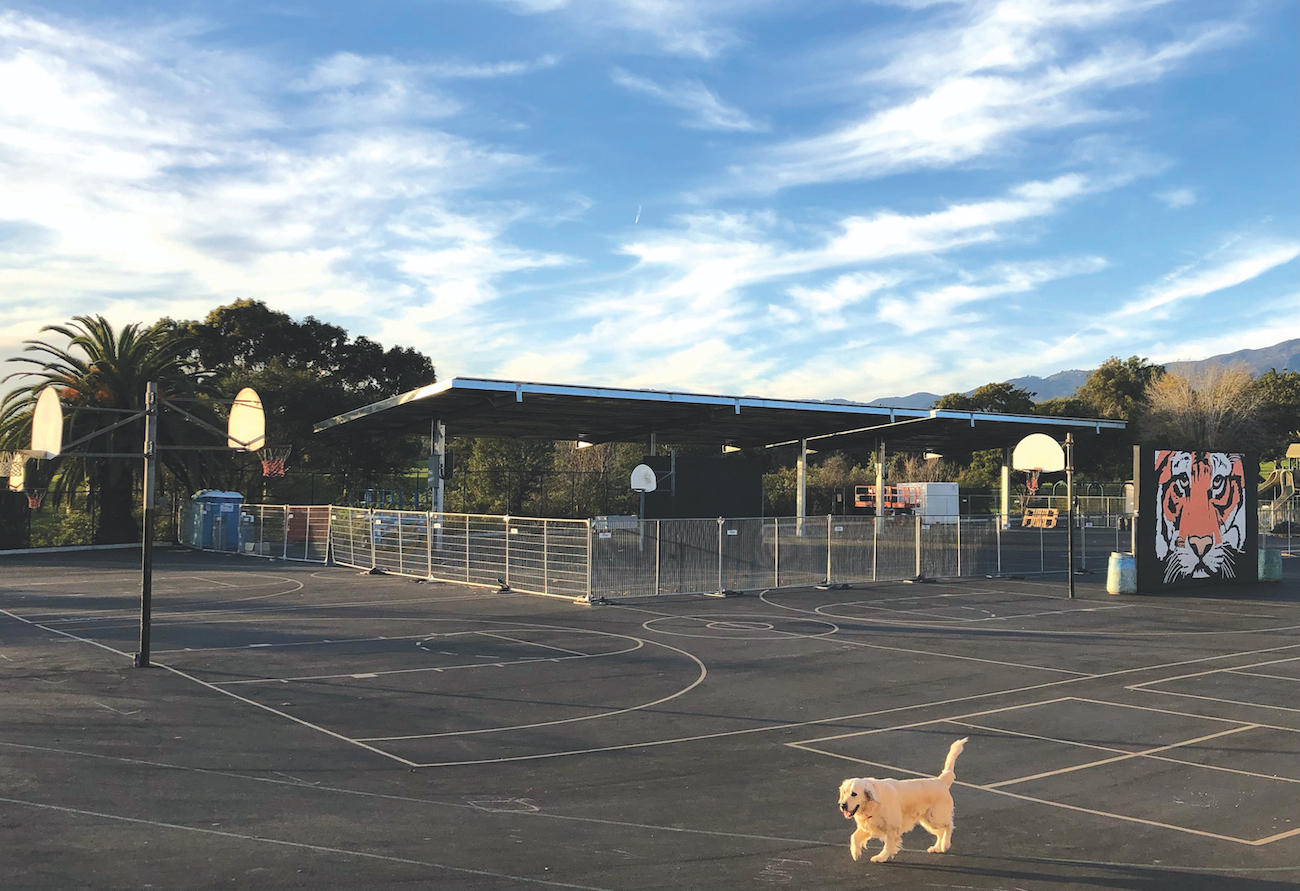 Craig Lewis was as horrified as any of us to hear of the Maui wildfires that have caused so much loss of life and destruction in Lahaina, with the death toll having climbed over 100 with nearly 1,000 other people still missing as of this writing. But the disaster also serves as another warning to residents of the South Coast, an area still recovering from the effects of the Thomas Fire and Montecito debris flows five years ago.
"It's a stark reminder of the vulnerability we have in Santa Barbara and how important it is to have energy resilience," said Lewis, the founder and executive director of Clean Coalition, the nonprofit working to accelerate the transition to clean, renewable energy to power a self-contained electrical grid.
A powerline downed during a storm likely caused the first wildfire reported on the Hawaiian island, and it mushroomed from there.
"The utility kept the power lines energized even after they had sparked fires because the only way to power the pumps bringing water for fighting the fires was with electricity. They didn't turn the power off because people needed to have electricity for their critical community facilities – communications, and the hospitals, police stations, and the fire department, including the water pumps to fight the fire. And the only way to get electricity to Lahaina was through the power lines," he said. "So they were caught in this chicken-and-egg situation where they actually caused more fires and made a bad situation even worse."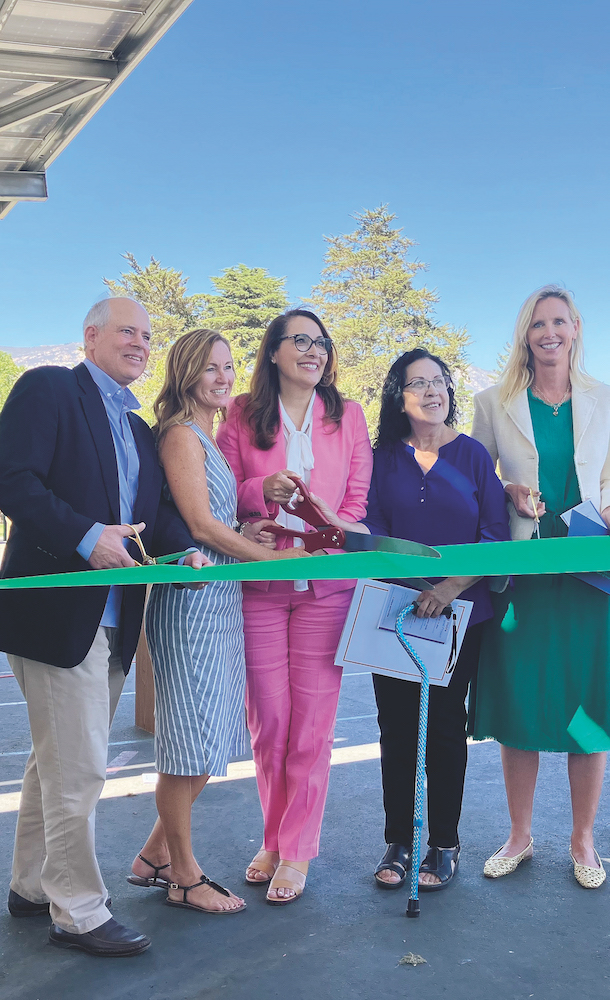 The solution for the "ridiculous Catch 22"?
Community microgrids.
Santa Barbara's vulnerability is that nearly all of our energy, the region's electrical grid known as the Goleta Load Pocket (GLP) that stretches from Point Conception to Lake Casitas, is served by transmission lines running through 40 miles of treacherous terrain threatened by wildfires, earthquakes, and mudslides. The two main lines share the same towers, so if one were to fall, both would stop working, largely plunging the region into electrical blackout. The only way to create independence and safety is to both generate and store enough electrical energy to be self-sustaining – i.e. community microgrids.
To make that happen for the Santa Barbara region would require 200 megawatts of locally generated solar, and 400 megawatt hours of local energy storage. The good news is that we're well on our way to the storage number through projects that are either online or coming soon, but falling far short in generation.
"We are completely failing on the solar side," Lewis said. "We need to get the solar cranking inside of our local community in order for the community microgrid to become a reality. Which means we need people to be putting solar in place on their homes or businesses – anyone who owns anything from a big parking lot with a roof down to a residential home or condo."
Everybody is a bit of an exaggeration, Lewis admits. Reaching a critical minimum actually requires just seven percent of the rooftops to have solar panels and storage.
"This is not like putting a man on the moon; it doesn't require a massive initiative," he said. "It's actually very achievable. It's just one out of every 15 homeowners and businesses moving forward."
Clean Coalition has been instrumental in getting the ball rolling, having helped with facilitation with technical, feasibility, and implementation aspects of larger projects for businesses, schools, and governmental organizations as well as nonprofits. Its success includes the three big area high schools that are part of the Santa Barbara Unified School District as well as Montecito Union School.
"We do the feasibility study, we manage the request for proposal process, facilitate the contracting with the party that's going to provide the construction, support the construction management, and handle monitoring and verification to make sure that what gets delivered is consistent with what was contracted," Lewis said.
Clean Coalition is currently supporting Santa Barbara Humane in creating a microgrid at the nonprofit's new facility, and working with Casa Dorinda in Montecito and several other retirement homes, which are considered critical facilities.
While the Clean Coalition is doing what it can to propel the effort toward energy resilience through a full community microgrid, its size limits its impact as there is more need for its services than the organization can currently meet. Financial support can exponentially increase its work toward implementation of the microgrid.
"Donations and contributions let us build our staff in order to do more," Lewis said. "The formula is simple: money equals staff equals more impact."
As the recovery efforts in Maui continue, the reminder is there that time is of the essence, Lewis said.
"The truth is Santa Barbara has to worry about exactly the same things that happened in Lahaina," he said. "We now have the benefit of hindsight to say let's not sit on our laurels about our progress in solar, and actually get our community microgrid in place."
Clean Coalition
Craig Lewis, Executive Director
www.clean-coalition.org
(650) 796-2353
Donate now!
www.clean-coalition.org
(650) 796-2353
Executive Director: Craig Lewis
Mission
The Clean Coalition is a nonprofit organization whose mission is to accelerate the transition to renewable energy and a modern grid through technical, policy, and project development expertise.
Begin to Build a Relationship
We know you care about where your money goes and how it is used. Connect with this organization's leadership in order to begin to build this important relationship. Your email will be sent directly to this organization's director of development and/or Executive Director.
Transitioning to renewable energy is critical to fighting climate change, and maximizing local renewable sources makes communities resilient. While our Santa Barbara region is incredibly special, the grid is alarmingly vulnerable to natural disasters. Our family foundation has supported the Clean Coalition for the past decade. The organization's leadership, vision, and initiative has demonstrated that clean energy innovations can benefit our local region and also serve as a model for communities across the country.
Schools are vital for educating our children in safe and healthy environments, and they also provide refuge to the broader communities in times of need. It has been a pleasure to work with the Clean Coalition to get Santa Barbara Unified schools primed for the indefinite resilience delivered by Solar Microgrids, along with tremendous economic and environmental benefits. The Solar Microgrids facilitated by the Clean Coalition are state of the art, and I am thrilled that these will show the way for schools throughout the region and well beyond.

Expanding the Reach of Clean Energy
Our donors are stewards of the environment who are bold and forward-thinking. Our donors are leaders who care for their neighbors and invest in future generations. 
Last year the Clean Coalition needed $250,000 to support our efforts throughout the Santa Barbara region. This year we are asking for $500,000 to expand our reach to North County schools and critical community facilities throughout the Central Coast over the next two years.
Funding will go towards the salaries of those conducting studies and dealing with regulatory policy at the state and local levels. Policy innovations that govern interconnection and Community Microgrids are particularly vital to unleashing clean local energy, and the Clean Coalition is working diligently to create the conditions for more solar-driven microgrids and the economic, environmental, and resilience benefits that come with them.
Many more renewables-driven microgrids are required to reach our goal of total energy resilience, and you are important to making this happen.
Key Supporters
Steven Amerikaner
Diane Boss
Sharon Byrne
Laura Capps
Jackie Carrera
Michael Chiacos
Jon Clark
Julianna & Tom Dain
Katie Davis
Bill Duncan
Cindy Feinberg
Jonathan Gartner
John Glanville
Stephen Honikman
Dennis Houghton
Vijaya Jammalamadaka
Berna Kieler
Greg Lowe
Lance Lyon
Lee Lysne
Stephen Macintosh
Cary Matsuoka
Sara Miller McCune
Stacy & Ron Pulice
Rick Rockhold
Jordan Sager
Wendy Schmidt
Jim Taylor
Michael Weissman, PhD
Merryl & Chuck Zegar