Representation for the Most Vulnerable
Blind Lady Justice's proffered balance scales make an eternal and sacrosanct point: Everyone is equal before the law and will be found guilty or not guilty based solely on the weight of evidence. What is less obvious in the symbology is how the lady's scales can be tipped by billables. Representation by an attorney is sufficiently expensive that access to the justice system's storied impartiality comes with an invoice many in our society can't begin to afford.
"Our legal system presumes that both parties are represented," says Legal Aid Foundation's Executive Director Jennifer Smith. "It presumes that both sides have an advocate, and that they're receiving legal information. And so our entire legal system works better when everybody has access to legal counsel." This is a tactful understatement. Sadly, society's most vulnerable are the very population with the least access to justice.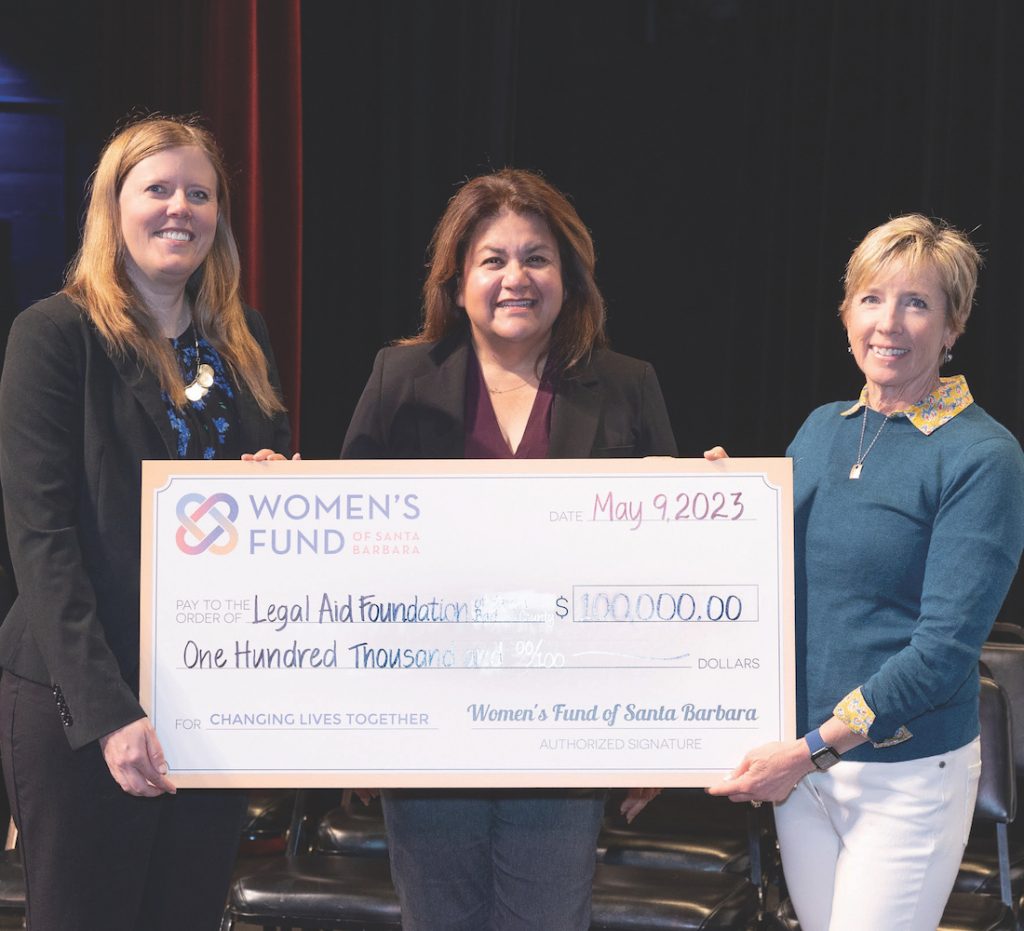 The Legal Aid Foundation of Santa Barbara County exists to redress that imbalance. "In our civil justice system, you're not guaranteed the right to counsel if you're poor or indigent. And that's where we come in," says Smith.
Civil court is typically thought of as the place where litigants go to squabble over money. In reality, civil complaints go right to the heart of inequality in our society. "Civil court can involve things like people who are facing homelessness due to an unjust eviction," Smith says. "Civil court can include survivors of domestic violence who need a civil restraining order, or who need to address issues of child custody or other family law matters," Smith continues. "At the Legal Aid Foundation, we also do advocacy work to help people experiencing homelessness to secure social security benefits. There can be so much at stake, which is why we're here."
The Legal Aid Foundation of Santa Barbara County also brokers outreach to other local nonprofits where needed. Smith explains: "We know that as attorneys, we can't do it all. We're taking one piece; we're taking on legal advocacy – but we know that our clients have holistic needs. And so we partner with many of the other nonprofits that are featured in The Giving List. We know that our clients have needs that go beyond just the court process." The legal system can be a bewildering maze of a process. "Our legal system is confusing and complicated for anybody trying to navigate it," Smith says, "let alone if you're low income, if you have a disabling condition, if English isn't your first language, or where you have other barriers."
How does private donorship help Legal Aid's mission? "The support of the donor community is absolutely critical," Smith says. "We do receive some support from the State Bar of California, but in seeking that support we have to demonstrate that we have local community support for our work even to be eligible for the funding. So the Legal Aid Foundation's response to local need is literally made possible by our local community's donations."
And while every nonprofit needs its volunteers, the Legal Aid Foundation counts on the work and expertise of dedicated volunteer attorneys to help their clients through the difficult legal processes. "My core team are employees of the organization, but the volunteers are absolutely critical," Smith says. "It truly is the entire legal community coming together to help provide these services."
The Legal Aid Foundation's demure, leaf-dappled little cottage near downtown Santa Barbara belies the immensity of good being done there for Santa Barbara's historically under-represented. The Executive Director's smile is hard-won. "It's great work, and I'm really proud of our team."
Donate now!
www.lafsbc.org
(805) 963-6754 x103
Executive Director: Jennifer R. Smith
Mission
Our mission is to provide high-quality civil legal services to low-income and other vulnerable residents in order to ensure equal access to justice. We change lives through direct representation, legal advice and information, and community education.
Begin to Build a Relationship
We know you care about where your money goes and how it is used. Connect with this organization's leadership in order to begin to build this important relationship. Your email will be sent directly to this organization's director of development and/or Executive Director.
I am proud to support the Legal Aid Foundation of Santa Barbara County. As an attorney, I know our system works best when everyone has legal representation. Through my work, I see how seniors may become victims of unscrupulous business practices or be taken advantage of by family members. Equal access to justice means that everyone – regardless of age, income, or physical ability – deserves to receive high-quality legal advice and representation.
Help Ensure Equal Access to Justice
We're seeking $10,000 of general support, and with that dollar amount we can serve 26 individuals and families in all different areas of law. Because the nature of our work is professional legal services to individuals, that money goes to support our number one cost – personnel.
Key Supporters
The Hon. Susan Rose
Allan Ghitterman
(in memoriam)
Alan Blakeboro
Julianna Malis
Susan Thompson
Crystal Forsher
The Women's Fund
of Santa Barbara
The State Bar of California
Judicial Council of California
U.S Dept. of Justice, Office of
Violence Against Women
Hutton Parker Foundation
Montecito Bank & Trust
Yardi Systems Inc.